Konami's GTI Club Exclusively Available On PS3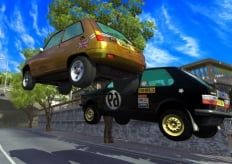 The PlayStation Network's newest software addition is Konami's 1996 remake, GTI Club+. Yes, there's actually a plus sign at the end of the game's name. And if you feel like blasting through European streets at gut-wrenching speeds in mini-hatchbacks, then GTI Club+ is your kind of game.
The game offers up eight-player online battles, with either free-for-all events or team-play options. There's multiple roads and routes to explore in the mountain oriented setting of France's Ville De Circo. Race options include checkpoint, free-run and bombtag.
Now this is an arcade racer for people who just want to pick up the game and play. So it's not like Gran Turismo fans will find a lot of heavy simulation options here. But feel free to check it out if you want a visually atmospheric racer to play with friends.
For more information about GTI Club+ for the PlayStation Network, feel free to check out the screenshots below or visit Konami's Official Website. If you want to purchase the game, look for it in the PlayStation Store. For more gaming news and updates remember to stay tuned in with Blend Games.
Image 1 of 16