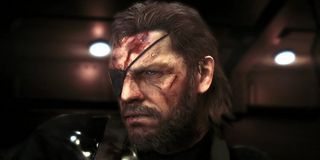 Konami has made one major change to the box art for Metal Gear Solid 5: The Phantom Pain. The box no longer mentions director Hideo Kojima or his studio Kojima Productions.
An earlier version of MGS5's box art said it was "A Hideo Kojima Game" at the very top. The Kojima Productions logo was at the bottom left next to the FOX Engine's symbol. However, both details have since been removed. See for yourself:
These box art edits are part of a wider effort by Konami to effectively remove any mention of Kojima from the game. They scrubbed Kojima's name from the official Metal Gear Solid website back in March. Shortly afterward, they stopped using the "Kojima Pro Live" Twitter account for MGS5 announcements.
At around the same time all this was happening, a report from GameSpot alleged that there was a power struggle between Kojima Productions and Konami. As the parent company, Konami obviously won that tussle. The report said that the publisher shifted all employees from permanent positions to temporary contracts. Those contracts will allegedly run out in December, a few months after MGS5's launch. This report seems to have been corroborated by the Japanese voice actor for Solid Snake, who said this week that Kojima Productions has been forced to disband.
Konami never outright said they fired Kojima or shut down the studio. Instead, they released a statement in late March that kind of danced around the subject. They said MGS5 would hit its previously announced release date and that Kojima would be working on the project until completion. Then they added that they're hiring new developers to continue the series.
The fallout from Kojima and Konami's split wasn't limited to Metal Gear Solid 5. The breakup also resulted in the cancellation of Silent Hills, a horror game that Kojima was developing alongside Guillermo del Toro.
While Konami has the right to make whatever personnel changes they want, it's hard to defend how they've handled this situation. Even if Metal Gear Solid 5 is Hideo Kojima and Kojima Production's last game, it's still their game. Removing any mention of them from the box art and website of the game just feels like a cold way to treat such consistently stellar developers.
Your Daily Blend of Entertainment News
Staff Writer at CinemaBlend.