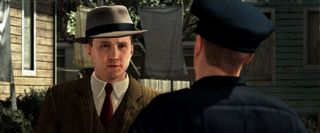 Remember the rumor about an L.A. Noire Complete Edition coming this fall? Well, Rockstar revealed today that it's the name of the PC version of the game. They also provided a release date and system requirements.
L.A. Noire takes place in Los Angeles after World War II. It's a time of prosperity but also of crime and corruption. Players take on the role of Cole Phelps, an LAPD officer. He'll work his way up from patrolman to detective. He'll have to examine crime scenes, interrogate witnesses and suspects, and chase down criminals.
What makes the PC version the "Complete Edition"? Well, it includes the full game as well as an access code for all downloadable content previously released for the console editions. The DLC includes the "Nicholson Electroplating" Arson case, "Reefer Madness" Vice case, "The Consul's Car" Traffic case, "The Naked City" Vice case and "A Slip of the Tongue" Traffic case.
Rockstar Leeds handled development of the PC version rather than Team Bondi. While it's designed to run on a wide variety of systems, it will sport enhanced visuals. Keyboard remapping and gamepad functionality are included, along with NVIDIA 3D Vision support. Here are the system requirements:
Operating System: Windows 7 / Windows Vista Service Pack 1 / Windows XP Service Pack 3 / OnLive for PC or Mac;
Processor: Intel Dual Core 2.2GHz to Quad Core 3.2GHz / AMD Dual Core 2.4Ghz to Quad Core 3.2Ghz
RAM: 2GB to 8GB
Hard drive space: 16GB
Video Card: NVIDIA GeForce 8600 GT 512MB to NVIDIA GeForce GTX 580 1536MB / Radeon HD 3000 512MB to Radeon HD 6850 1024MB
Sound Card: 100% DirectX 9 Compatible
DVD Drive
The L.A. Noire Complete Edition will arrive in North America on November 8th and in Europe on the 11th. It's priced at $49.99 / €49.99 / £39.99.
Your Daily Blend of Entertainment News
Staff Writer at CinemaBlend.