The Last Of Us' Ashley Johnson Talks About Playing Ellie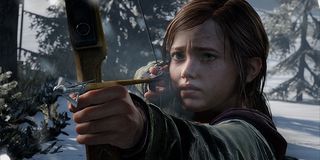 We are two weeks out, exactly, from the release of The Last of Us and anticipation for the game seems to be reaching a fever pitch. To help tide everyone over through the final stretch, Sony and Naughty Dog have been throwing out some additional media here and there to tide us over. Today's offering is an interview with Ashley Johnson, car-star of the game and the actress for young Ellie.
In The Last of Us, Naughty Dog heads in a completely different direction than its famous Uncharted series, trading wise-cracking adventurers and lost ancient civilizations for a pair of survivors just trying to make it through the apocalypse in a city that has been reclaimed by nature.
Preparation and planning is key in The Last of Us, as the typical bullet-sponge of action games past has been replaced with a more human protagonist who can die after just a couple of hits. And while bizarre fungus-zombies terrorize the streets, the remaining humans are just as desperate and just as deadly as any monster.
According to a new interview with Ashley Johnson on the PlayStation Blog, Naughty Dog set out to make the game's protagonists, Ellie and Joel, emotional characters that you begin to care for.
"Partly through Neil Druckman's nuanced writing, partly through the tactile, reactive gameplay, and partly through the pitch-perfect performances of the voiceover cast, The Last of Us packs an almighty emotional wallop to go with its blockbuster action set-pieces," said SCEE Blog Manager Fred Dutton. "It's bar-setting stuff from the Uncharted studio, and these are characters that will resonate with you long after the game's epic conclusion."
Whether or not The Last of Us lives up to that lofty praise remains to be seen, but we'll all be able to find out for ourselves when the game finally releases for the PlayStation 3 on June 14. Until then, find out what actress Ashley Johnson though about her experience, the process of motion capture, and the final product by reading her interview.
Your Daily Blend of Entertainment News
Staff Writer for CinemaBlend.
Your Daily Blend of Entertainment News
Thank you for signing up to CinemaBlend. You will receive a verification email shortly.
There was a problem. Please refresh the page and try again.