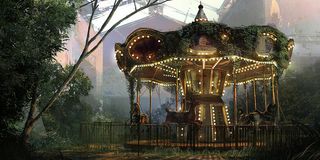 Naughty Dog announced details on Last Of Us's three DLC packs today. The first DLC, called the Abandoned Territories Map Pack, will be launching next month.
The Abandoned Territories DLC will add four new locations for the game's team-based multiplayer on October 15th. The Hunters and Fireflies will fight it out in the middle of a dust storm in Suburbs. Bus Depot will take them to an overgrown city where giraffes now graze. Hometown is a night-time urban map that should lend itself well to stealthy play. The four and final map, Bookstore, is set in and around a two-level storefront.
Naughty Dog wasn't as talkative when it came to the story-based DLC they're developing. It's still months away, apparently.
"When we initially talked about the Season Pass we mentioned making our first ever story-driven single player DLC," said Naughty Dog community strategist Eric Monacelli on the PlayStation.Blog. "This is an ambitious story with strong ties into the narrative of The Last of Us. We just wrapped up a long casting process for a new character, and we're starting our performance capture shoot next week."
Monacelli adds that the single-player DLC should arrive around December or January. That's probably a lot longer than most Last of Us players were hoping to wait. At that point, they might have forgotten Last of Us and moved onto their shiny new PS4 or Xbox One. I suppose a long wait for DLC is better than half-assed content rushed out the door, though.
The third and final add-on included in the Season Pass will add more content for multiplayer. Naughty Dog didn't divulge anything about this DLC, save its early 2014 release window.
Players can purchase all three DLC packs at once by grabbing the $19.99 Season Pass at GameStop or through PSN. This Season Pass will also unlock 60 head items for multiplayer characters. Two sample items, the Nightmare Mask and Pigskin Hat, can both be seen below along with screenshots of the Abandoned Territories Map Pack. While the head items will be sold a la carte to players, the Mask and Pigskin Hat are exclusive to the Season Pass.
Image 1 of 5
Your Daily Blend of Entertainment News
Staff Writer at CinemaBlend.