Leipzig GC 07: Konami Features MSG4, And Mystery DS Game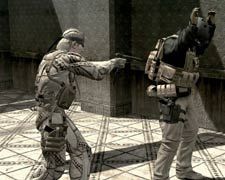 Chances are if you've bought a PS3 it's for one of two reasons – you accidentally thought you were purchasing the sleekest, most badass grill ever invented, or you really, really want to play MGS4. After a host of speculation as to whether the game would cross over to the 360, it looks as though MGS4 is firmly cemented as a PS3 exclusive, and we're set to see a host of new information as Konami takes the stage in Leipzig later tonight.
As for Konami's other plans for the press conference...
11:00: Koji 'IGA' Igarashi, Castlevania: The Dracula X Chronicles
12:00: New DS title team
13:00: Hideo Kojima, METAL GEAR SOLID 4: GUNS OF THE PATRIOTS
14:00: William Oertel, Silent Hill Origins/Silent Hill V
15:00: Hideo Kojima, METAL GEAR SOLID 4: GUNS OF THE PATRIOTS
16:00: Aki Saito, PES 2008
17:00: Shingo Mukaitoge, Dewy's Adventure
Obviously the big draw remains MGS4, with two solid hours sandwiching in the juicy terror that is Silent Hill. But what of this ominously titled "New DS title?" According to Konami, it's set to be "an all-new DS version of one of Konami's classic arcade smashes." My instinct is to say it will be Contra, since that was playable at Comic-Con. But who knows? There's always a chance we'll be seeing DDR DS. Whatever it is, hopefully "New DS title" will be a marked improvement over last year's "Old DS title" which we all remember was something of an ambiguous letdown.
Your Daily Blend of Entertainment News
Thank you for signing up to CinemaBlend. You will receive a verification email shortly.
There was a problem. Please refresh the page and try again.