LittleBigPlanet Karting Gets Hacked By Tron Legacy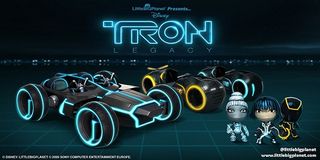 The bright neon world of Tron Legacy is about to invade the world of LittleBigPlanet Karting as United Front Games announces a new batch of DLC headed to Sackboy's racer later this week.
If there's one thing Tron Legacy got right, it was the awesome vehicle sequences involving Light Cycles, Light Runners and a whole bunch of dudes exploding into tiny bits of computer code. United Front Games and Disney have partnered up to bring that white-knuckle experience to the decidedly less blue-glowy-glowy world of LittleBigPlanet Karting.
Announced through the PlayStation Blog, the LBPK Tron Legacy pack will feature a Light Runner (the off-road buggy from the film) and a pair of Light Cycles (in fashionable yellow and blue) for players to get behind the wheel of. The pack will also incclude a trio of costumes, including CLU, Quorra and one of those somewhat creepy android-looking ladies that deck Sam Flynn out in his computer-world duds.
Released last year, LittleBigPlanet Karting comes from the same team that made the seriously overlooked ModNation Racers. In LBPK, the ModNation legacy of building your own characters, karts and tracks carries over, matching perfectly with the world of LBP. It's a little bit of a bummer that this release didn't get the "full package" treatment, as a bunch of Tron-inspired track elements sure would be a welcome addition. Then again, the core game already offers enough bits and baubles to suit that need, so here's hoping the new characters and karts will encourage more clever creators to start dishing out some Tron tracks.
Look for the Tron Legacy DLC to drop in this week's PSN update tomorrow afternoon.
Your Daily Blend of Entertainment News
Staff Writer for CinemaBlend.
Your Daily Blend of Entertainment News
Thank you for signing up to CinemaBlend. You will receive a verification email shortly.
There was a problem. Please refresh the page and try again.