LucasArts: Free-To-Play Star Wars Galaxies Wouldn't Work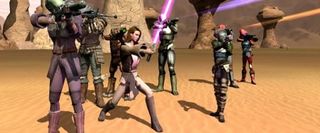 Before deciding to shut down their long-running MMO Star Wars Galaxies, LucasArts says they explored many alternatives. One of the possible solutions was making the game free-to-play. They insist it wouldn't have worked, though.
"The decision to shut down the game has not been an easy one. SOE and LucasArts investigated every option to keep the game open, including taking it to a free to pay model," read a LucasArt statement sent to GamePro. "However, that model just isn't financially viable. Changing the business model for an experience like Star Wars Galaxies takes a major investment and overhauling of the existing infrastructure of the game. We're unfortunately at a point in our life cycle where a change of this magnitude is just not possible."
"The harsh reality is that we've reached a point where the game is no longer a sustainable business. None of us wanted to see this point, but we're extremely proud of the last eight years of the game and the community that has supported it."
Sony Online Entertainment president John Smedley said earlier this week that their licensing agreement with LucasArts was due to expire in 2012. SOE could've renewed this agreement but decided it "wouldn't be the right thing for the company." The upcoming launch of Star Wars: The Old Republic, which would've potentially peeled off many subscribers from SWG, was a factor in the decision as well.
Star Wars Galaxies will shut down for good on December 15th. The developers hint that there's going to be some sort of special event to end the game.
Staff Writer at CinemaBlend.
Your Daily Blend of Entertainment News
Thank you for signing up to CinemaBlend. You will receive a verification email shortly.
There was a problem. Please refresh the page and try again.