The Magic School Bus: Oceans Coming This Fall To Nintendo DS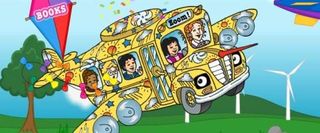 Ms. Frizzle steps back into action, piloting one of the most revered magical vehicles in the history of magical vehicles with a brand new game for the Nintendo DS. Players will take a journey into the ocean to make new discoveries and learn a little something new about the big blue, liquid playground.
Deborah Forte, President of Scholastic Media, Executive Vice President of Scholastic Inc., and Executive Producer of the television series commented in the press release about the game, saying...
The game lets players into an open explorative universe with more than 200 different interactions within the infotainment universe of the ocean. Nintendo DS gamers will learn a little bit about something new regarding oceanography while at the same time partaking in mini-games and having fun while being educated. There are a total of six different levels of the ocean, with various marine transformations available for the Magic Bus. With 100 different sea creatures to uncover, and 100 equally interesting facts to comb over, players of all ages will have plenty to do with the upcoming, budget-priced title from Scholastics and Cokem International.
You'll be able to pick up a copy of The Magic School Bus: Oceans this fall for $19.95, exclusively on the Nintendo DS. You can learn more about the game by heading on over to the Official Website.
Your Daily Blend of Entertainment News
Staff Writer at CinemaBlend.