Major Crash Bandicoot Hint Dropped By Dr. Neo Cortex Voice Actor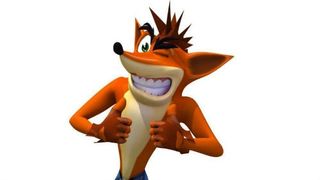 Crash Bandicoot fans have had a hell of a time being strung along with hint after hint after hint. But could this finally be the one we've been waiting for? Or is it another elaborate tug at the heartstrings of Crash Bandicoot fans everywhere? This morning, a post on NeoGaf revealed the status of voice actor Lex Lang, who voiced the notorious Crash Bandicoot character, Dr. Neo Cortex. You can see his Facebook status below.
The status has since been deleted, of course, and is as ominous as it is exciting. When a Crash Bandicoot account on Twitter responded, Lex Lang himself liked the Tweet, seen in the picture below.
While he doesn't directly name Neo Cortex as a character he has been asked to voice again, he does name a doctor, a droid/AI and a devil.
There is one major problem with this statement. Lang voiced Dr. Doom in the 2013 video game, Marvel Heroes. And just by briefly going over his list of credits on his IMDB page, Dr. Doom and Dr. Neo Cortex are the only "doctor" characters in video games I could find that he has voiced.
But if you think about it, Dr. Doom is technically already in Marvel Heroes and goes strong still today, specifically with the Dr. Doom Cosmic Trial that was available late last year. So there's no being asked to "come back" to voice Dr. Doom. And that only leaves one doctor left on his IMDB list…
And everything makes sense. Why would Lex Lang "like" the Tweet where an obvious supporter of Crash Bandicoot coming back tagged Lang in question about his status? Is this just another ploy to mess with Crash Bandicoot fans? Or is Lang really being called back for a possible Crash Bandicoot reboot? It's obvious with the overwhelming success of the Ratchet And Clank reboot, Sony proved when the strong fanbase is there, the game can do well. Hell, they even pushed out a movie along with it. So maybe that's caused someone to think, "Hey, wait a minute, Crash Bandicoot has psychotically-obsessed fans that would give their every penny, nickle and dollar for another Crash Bandicoot game, maybe we should finally capitalize on that?" Maybe now that we're so obviously knee-deep in the age of reboots in the film industry, perhaps now it's the age of reboots in the video game industry as well?
And for those who have gotten the chance to hear about or play Uncharted 4, is it any coincidence there is a number of Crash Bandicoot references? Are they hinting at something?
Guys, I really want this to be true, I do, but I've been hurt by false Crash Bandicoot teases and gimmicks so many times before, that I'm not sure I can handle much more. And this one seems like a biggie. And I know many fans out there feel the same. But there is just a small inkling of hope inside me.
Your Daily Blend of Entertainment News
Thank you for signing up to CinemaBlend. You will receive a verification email shortly.
There was a problem. Please refresh the page and try again.