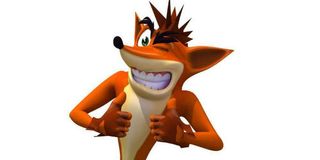 Crash Bandicoot was the unofficial mascot for PlayStation back in the nineties. However, producer and co-creator David Siller revealed this weekend that the character could have had an even wider impact on pop culture.
When the original Bandicoot game was being planned by Universal Interactive Studios and developer Naughty Dog, sister company made an animated short. Siller shared the unused footage over YouTube:
According to Siller, this video was a "test animation" that could have led to much bigger things:
In 1996, Sony agreed to publish Crash Bandicoot for release on PSOne. One downside of this decision was that the animation above went unused. Siller said that Sony decided against these types of cutscenes "because they were heavily pushing the '3D' agenda."
In other words, they considered Crash Bandicoot to be an important game in selling PSOne's 3D capabilities to the public. Two-dimensional animated videos like the one above wouldn't really demonstrate the visual power of the console. Here's the 3D cutscene they used for the game's introduction instead:
While Crash never became a cartoon character or theme park ride, he still did okay for himself. He starred in seven platforming and three kart racing games across the PSOne and PlayStation 2 eras. The series then spread to other non-Sony devices like Game Boy Advance and smartphones in time. The eighteen games in the series sold a combined 50 million copies.
Unfortunately, there's no sign of a comeback for Crash. Activision now owns the license to the series and hasn't been doing anything with it. Sony, meanwhile, doesn't seem to have any interest in regaining their former mascot. Original developer Naughty Dog has moved on as well, preferring to work on Uncharted and other more "mature" games. Naughty Dog lead animator Josh Scherr summed up the sentiment in a recent interview:
I doubt a theme park ride or cartoon based on Crash would have outlasted the game series. It's interesting to think how Crash's place in video game and pop culture could have turned out differently had those projects gone through, though.
Your Daily Blend of Entertainment News
Staff Writer at CinemaBlend.