Crash Bandicoot To Return In Fan-Made Game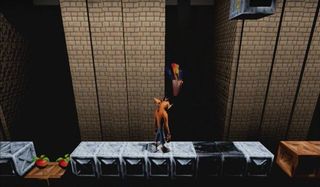 The epitome of any Gen-Y gamer's childhood is filled with memories of vibrant platformers like Spyro The Dragon, Jak and Daxter and Crash Bandicoot. It's been years since anyone has heard anything about Crash Bandicoot since its last few failed titles. But now, a YouTuber by the name of Anisotropic is hard at work designing a fan-made reboot of Crash Bandicoot using Unreal Engine 4—and it looks pretty amazing. Check out his first prototype video below.
In the first video, Anisotropic reveals the rough development of the Crash Bandicoot game using Unreal Engine 4. If you remember the older games, Crash was so jutted-looking from the old PlayStation graphics, but in this video, everything looks so crisp and clean. Anisotropic has been releasing a series of videos with continued updates on the creation of the game. His most recent prototype video shows a number of critical updates since his first video.
The warping function, which allows Crash to teleport to each world where the level takes place, seems to be functioning in a way that stirs up nostalgic feelings of hours spent playing early Crash Bandicoot games. In this update, Anisotropic describes,
More specifically, this video obviously showcases many needed updates that really drive the essence of Crash Bandicoot games. Such updates include finished cartoon textures that make Crash Bandicoot games what they are, the ever-popular bonus levels that contained extra lives and Wumpa fruit and exclamation crates.
For those who have always wondered what a new-age Crash Bandicoot game would look like, Anisotropic is making all of your dreams come true. Crash Bandicoot was first released in 1996 on PlayStation, and at the time, IGN reviewed it and gave it a 7.5 out of 10. The story of Crash Bandicoot is the typical good versus evil narrative where he and his sister Coco Bandicoot and older brother Crunch Bandicoot battle it out against evil Dr. Neo Cortex and his nefarious spiritual guardian, Uka Uka. Crash and his siblings have their own spiritual protector, father figure and personified health-meter, Aku Aku. Once Aku Aku disappears from sight, the next time you get hit by an enemy, you die, kind of like the dragonfly in Spyro The Dragon.
Fans have been asking for years about the return of Crash Bandicoot, but since the last unsuccessful releases of Crash Bandicoot games, everything on the front has been silent. Before those specific releases, Crash had undergone a horrifying makeover that broke the hearts of diehard Crash Bandicoot fans everywhere.
At the PlayStation Experience event in December, Sony's Shawn Laden walked out on stage wearing a Crash Bandicoot shirt and the audience completely lost it. They thought for sure Sony was about to announce the next Crash Bandicoot game, or even a reboot. But, eventually it was learned that Sony trolled Crash Bandicoot fans—and trolled them hard.
As of right now, the Crash Bandicoot franchise is owned by Activision and there isn't any word of any sort of remastering or rebooting. Crash Bandicoot fans might have to sit and wait in agony for someone to realize just how much money a remaster or reboot would make.
In July last year, "Naughty Dog" released an E3 teaser of a remastered Crash Bandicoot with the headline "Crash Bandicoot - E3 2016 Teaser Trailer | PS4". Obviously, the video was fake, but it left many perplexed because it "looked" like it was released by the official YouTube page of Naughty Dog, but it was an imposter.
As for the fan-made Crash Bandicoot game, it might be the closest any fan ever comes to getting another Crash Bandicoot installment. You can continue to follow Anisotropic's progress on his YouTube page.
Your Daily Blend of Entertainment News
Your Daily Blend of Entertainment News
Thank you for signing up to CinemaBlend. You will receive a verification email shortly.
There was a problem. Please refresh the page and try again.