Mass Effect 3 Fans Sending BioWare Cupcakes Of Protest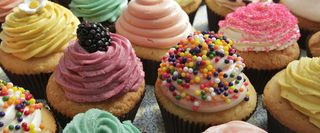 A group of Mass Effect 3 fans have decided to express their disappointment with the game's ending in an unusual way. They're sending 402 cupcakes to BioWare's Edmonton studio.
"As fans, we want Bioware to do right by us, and fix the endings for Mass Effect 3. But we also want to let Bioware know, that we trust them, and have faith in them," says the cupcake campaign's website. "Bioware has been slammed by negativity from all sides in the last few weeks. This is our way, as fans, to drive our message home, but in a (literally) sweet way. We want Bioware to add some more 'sweet' to their 'bittersweet' ending. What better way to do this than with CUPCAKES."
The cupcakes are divided into three colors: red, blue, and green. However, as the organizer notes, they "will all taste exactly the same." It's a joke about how similar the three endings of ME3 are. Notes from each donor, as well as a longer formal letter from the organizers, will be included with the shipment.
ME3 players on the BioWare forums quickly raised the $1,005 needed for the cupcakes within a day. Excess money will be donated to Full Paragon. Full Paragon is a Mass Effect fan charity that raises money for children's literacy.
BioWare is expected to receive the cupcakes by the end of the week. Fuss Cupcakes, a bakery with the good fortune of being closely located to the studio, is handling the order.
Last week, BioWare co-founder Ray Muzyka said that the developer is working on "game content initiatives" to address fans' complaints about ME3's ending.
Your Daily Blend of Entertainment News
Staff Writer at CinemaBlend.