Mass Effect 3 Patch 1.02, Resurgence DLC Released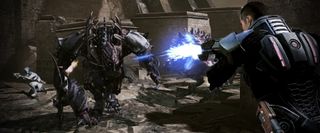 BioWare has begun to roll out the latest patch for Mass Effect 3. Patch 1.02 fixes the face import issue present since launch and helps make the game a bit more stable. Accompanying the patch is a bundle of free DLC.
My playthrough of the game was relatively smooth on Xbox 360. Apparently ME3 has some pretty scary bugs, though. For example, you could accidentally reset your player's level and lock your powers. No more, though.
The patch is live on the PC and PS3 so far. The Xbox 360 was supposed to get it today but hasn't so far. BioWare is now estimating that it will arrive on Wednesday.
"I also just heard that the patch should be live tomorrow morning EARLY MST for Xbox 360," tweeted producer Mike Gamble a short time ago.
Today also marks the release of the free Resurgence DLC. This DLC pack, loaded with new characters, items and maps for multiplayer, is available on all platforms. European PS3 owners will need to wait until tomorrow to get it, though.
The full notes for today's patch are below.
All Platforms
Fixed issues when in some cases Shepard's customized facial features from ME1/ME2 may not be properly imported to ME3.
Fixed an issue when quickly and repeatedly selecting to Resume a Save could result in Player Level reset and a potential locking of powers.
Fixed an issue when selecting Multiplayer in the Main Menu while under a poor network connection could result in an unresponsive state.
Fixed a potential crash while accessing an in-game terminal from Eden Prime level.
Fixed an issue when attempting to login while Server is down. It would display a Server Down message and accepting the Server Shutdown message would shut down the game.
Fixed a potential memory crash while loading a Quick Save of a custom FemShep.
Fixed an issue when restarting missions and acquiring an above max amount of weapon mods results in displayed debug text on-screen.
Fixed an issue when an unresponsive game state could occur during transition after the Conduit level.
PC Only
Fixed an issue when DLC game saves can be accessed from an account without DLC if another account on the same computer has access to the related DLC.
Fixed an issue when saves from different accounts on the same computer may become locked if one account has access to DLC which the other account does not.
Playstation 3 Only
Fixed an issue when potentially the game could enter unresponsive state when transitioning from the Holding Docks area to the Normandy Docks area of the Citadel.
Your Daily Blend of Entertainment News
Staff Writer at CinemaBlend.