Max Payne 3 Disorganized Crime Pack Heads To Hoboken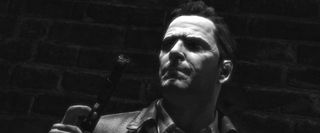 Rockstar Games will be delivering a free DLC pack for Max Payne 3 next week on all platforms. The Disorganized Crime Pack will add a new map as well as a interesting retro feature.
The DLC pack has something for each side of the game. The multiplayer modes will be enhanced by the addition of a Hoboken Rooftops map. New modifiers like Explosive Rounds, Lone Wolf A.I. and Headshots Only spice up the Arcade Mode.
The campaign, meanwhile, will receive Noir Mode. Noir Mode is the same as normal play except everything is black and white. Be sure to drink a mint julep while you're playing to complete the old timey experience.
Disorganized Crime is due on August 28th.
Staff Writer at CinemaBlend.
Your Daily Blend of Entertainment News
Thank you for signing up to CinemaBlend. You will receive a verification email shortly.
There was a problem. Please refresh the page and try again.