Metal Slug Style MMO, Metal Assault, Heads Into Open Beta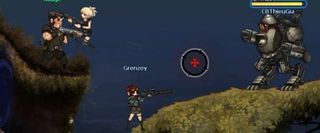 If you enjoy side-scrolling action games with hundreds of weapons at your disposal, upgrades, customizable characters, dozens of campaign missions and zombies, then you might get all starry eyed knowing that the Metal Slug style MMO, Metal Assault, has currently entered the open beta stage and is still free-to-play.
Aeria Games' Metal Assault features four customizable characters, too many weapons to count and plenty of level progression, unlocks and game types to keep gamers busy for a long time to come. Unlike a lot of other MMOs out there that head into open-beta half-broken, Metal Assault seems to be a very complete game with spot-on polish.
You can sign-up and start playing the game right now by heading on over to the Official Webite.
Your Daily Blend of Entertainment News
Staff Writer at CinemaBlend.