Metro: Last Light DLC Controversy Prompts Gamers To Buy Used Copies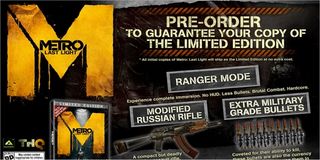 Instead of buying a new copy of 4A Games' new FPS, Metro: Last Light, gamers who actually value their money and maintaining some integrity for the hobby of interactive entertainment, have decided to pledge their allegiance to used copies, discounted copies and pirated copies over the game's DLC controversy.
Gamers are basically saying 'We're willing to pay for the game and support the game, but we won't give support to bad business practices'.
Gamers like Angry Joe, sites like MyTide, and a large group of sub-communities across the web, including YouTube commentators, have banded together (in essence) to say that they won't support purposefully stripped content from a game to be resold at a premium price, on top of the $60 entry price.
One gamer on a comment thread noted that...
Some have said that this will start a slipper slope, but this isn't even a slippery slope, we're already sliding down the hill at a pretty quick pace. They're literally charging you extra for a difficulty setting. This comes after characters were put behind a pay-wall, when cheat codes were put behind a pay-wall in games like Saints Row: The Third or Sleeping Dogs. This comes after story missions were put behind a pay-wall. This comes after an entire game region was disc-locked behind a pay-wall and even a game's true ending.
The common excuse from parent company Koch Media was that Deep Silver's hands were tied because retailers demanded some sort of exclusive pre-order bonus and the only thing they could do was strip off and re-sell the game's Ranger Mode to players, with brand manager Huw Beynon stating...
The best way to combat these practices is what's often mentioned on Reclaim Your Game: Hold Your Wallet.
Metro: Last Light is releasing for the Xbox 360, PS3 and PC. If you want to send a message it involves not giving publishers money for giving you less or forcing developers to strip off content to sell back to you.
Your Daily Blend of Entertainment News
Staff Writer at CinemaBlend.
Your Daily Blend of Entertainment News
Thank you for signing up to CinemaBlend. You will receive a verification email shortly.
There was a problem. Please refresh the page and try again.