Risen 2 On-Disc DLC Blocked With New Patch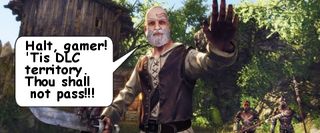 Deep Silver has quickly taken notice of gamers accessing the "on-disc" DLC for Risen 2: Dark Waters. In response, the company has had Piranha Bytes to remove access to the disc-locked content with the latest patch released for the game.
The patch recently hit, as reported by Blues, which adds a few extra game features as well as takes a few away. I find it funny that the official list of updates made in the patch over at the Steam website completely foregoes the mention of removing console access to the disc-locked content. I imagine they could have added a simple line saying "Oh yeah, we nerfed that SOB feature which let paying consumers access everything in the packaged game. Suck on that, fools."
Well, how do we know that the on-disc DLC is no longer accessible from the in-game console if it's not in the patch notes? Gamers, of course...gamers.
According to adept PC gamers who have tried accessing the disc-locked content recently, they have responded saying that they are not able to access it anymore. A simple error now pops up in the console saying "spawn dlc1h failed" or "spawn dlc2h failed", etc.,etc. But guess what, there's a workaround for the patch that blocks the disc-locked content. Isn't that crazy?
So here's how you bypass the disc-locked content patch remover: first uninstall the game and then reinstall it but uncheck the option to automatically update the game if you're installing it via Steam. This enables you play the "vanilla" game before the latest patch, which allows you to use the console to access the disc-locked content with ease. Dexter111 has a simple walkthrough for accessing the DLC over at the Escapist forums.
This pretty much guarantees that Deep Silver will definitely make sure the disc-locked content for the Xbox 360 and PS3 version of the game will be tightly secured from any in-game workarounds. The only question now is if this on-disc DLC will still be premium DLC when the game launches for home consoles this July or if it will be accessible with the rest of the game's content as part of the initial retail package? Only time will tell.
And remember, if you don't want to see disc-locked content spreading more and more to some of your favorite games, you have to make sure you Hold The Wallet!
Staff Writer at CinemaBlend.
Your Daily Blend of Entertainment News
Thank you for signing up to CinemaBlend. You will receive a verification email shortly.
There was a problem. Please refresh the page and try again.