Midway Rolls Out E3 2007 Line-Up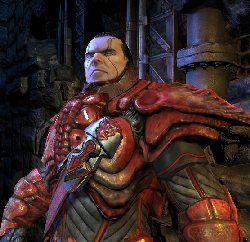 Midway has a tantalizing list of games being showcased at this year's E3. Some of which have appeared on a couple of our must-have lists here on CB Games. I'm almost convinced that Midway has one of the best line-ups for the entire summit. But how well the games will fare is a whole other story. You can check out the rest of the details by reading on.
"Our 2007 E3 lineup truly reflects our product strategy to develop top quality titles in a wide range of genres across all major platforms," said David F. Zucker, president and CEO of Midway. "With exciting next generation games such as Stranglehold and proven brands like Mortal Kombat, along with games for the younger market and handhelds, this is Midway's most diverse and strongest line up yet."
I couldn't agree more. Except, maybe it's just me, but I'm thinking that Hour of Victory is looking more like an embarrassment rather than a striking addition to Midway's grandiose gaming line-up. I mean, amid the likes of Stranglehold (which has been an obvious favorite of CB Games) and Unreal Tournament 3, you kind of look at Hour of Victory as the snotty nosed, ugly little baby that even the parents show shame for. But anyway, Midway's favored title out of this line-up, as I mentioned before, is Stranglehold. While Blacksite: Area 51 could have taken the reigns, it's just not as dynamic or cinematically driven as the virtual-sequel to John Woo's Hard Boiled. Nevertheless, Midway is still packing some serious punching power with their list of games.
You can check out what's going to be on-display or visit the Official Midway Website for a detailed look at their E3 line-up.
Midway's E3 2007 Video Game Line-Up:
Stranglehold (PlayStation 3, Xbox 360, PC; August) - Experience exhilarating, next-gen action for the PS3, Xbox 360? videogame and entertainment system from Microsoft and PC, as you continue the story of Inspector Tequila created by John Woo for his influential action film, "Hard Boiled" starring Chow Yun-Fat. Run into danger with both fists full of lead and take down the organized crime bosses who stepped over the line when they took your family. Stop at nothing as you destroy the entire world around you to get them back. You are a desperate man following your own rules; honor thy family; do what's right; fear no man.
BlackSite: Area 51 (PlayStation 3, Xbox 360?, PC; September) - Featuring a powerful single-player campaign, along with multiple online multiplayer modes, BlackSite: Area 51 delivers vicious combat action, next generation graphics and A.I., and a plethora of powerful weapons and vehicles. Set in present day, players take the role of a decorated military veteran charged by the government to lead a squadron of "secret soldiers," each with his/her own specialty skill set, into the Rachel, Nevada area to fight off the invasion of unidentified enemy races.
Unreal Tournament 3 (PC; Fall) - Unreal Tournament 3 marks the return of the industry's premiere first-person shooter franchise. In the latest installment of the award-winning Unreal franchise, players assume the role of a futuristic warrior engaged in contests of intense warfare against dedicated and skilled opponents, controlled either by human contestants online or by A.I. These brutal contests are fought with the most powerful military weapons and vehicles known to man. In Unreal Tournament 3, players can go face-to-face with devastating close quarters weapons like the flak cannon and rocket launcher, or pick off their enemies from a distance with a high-caliber sniper rifle. Players will also be able to fully access the universe's most capable and advanced set of vehicles in his quest to dominate and overwhelm opponents.
Ultimate Mortal Kombat (Nintendo DS, November) - Ultimate Mortal Kombat combines the visceral thrills of the classic Ultimate Mortal Kombat 3 and the addictive puzzle action of the Puzzle Kombat component of Midway's best-selling Mortal Kombat: Deception in a single DS-friendly package. With unlockable content, new record-keeping capability, and Wi-Fi-connected multiplayer, players will be able take UMK anywhere for fighting action on the go.
Cruis'n (Wii, November) - An all new version of the classic Midway arcade racer, Cruis'n is coming exclusively to the Nintendo Wii. Choose your ride from an impressive lineup of licensed cars and experience a rush of adrenaline as you race opponents through twelve different street circuits using the Wii remote to steer and perform outrageous stunts. Win races and earn upgrades including: turbos, body kits, neon and nitrous, allowing you to create the ultimate ride.
Aqua Teen Hunger Force Zombie Ninja Pro-Am (PlayStation 2, October) - Jealousy smolders inside Master Shake like chocolate in a fondue pot. Frylock has been admitted into Jersey Pines, South Jersey's most prestigious and exclusive public golf course. And Shake was rejected. Actually, he didn't apply. He doesn't know how to play golf. But what does that matter? He's mad and must defeat Frylock at his own game. With Meatwad as his caddy, Shake aims to crack some heads and sink some putts. Do battle against Carl, the Mooninites, MC Pee Pants, the Plutonians and other classic villains. Drive your electric golf cart like a real jerk, with complete disregard for your own life. Race against the Frat Aliens in a deadly game of cat and mouse. Hear the actual voices of your favorite cartoon characters, recorded in incredible digital quality. Learn how to finally hit a sand wedge properly. Only you can ensure that Master Shake is triumphant over evil, and the mandatory dress code regarding collared shirts.
Game Party (Wii, November) - Game Party for the Nintendo Wii is a collection of classic skill games from around the world, from American sports venues to European gathering spots. Using the Wii's unique control interface, you can play classics such as darts; modern favorites such as table hockey and hoop shoot, or participate in multiplayer trivia contests. More than a half dozen games are available. It's the ultimate party game.
Foster's Home for Imaginary Friends: Imagination Invaders (Nintendo DS, November) - For the first time on the Nintendo DS experience the fun of Cartoon Network's hit show in Foster's Home for Imaginary Friends: Imagination Invaders, playing as head mischief-maker Blooregard Q. Kazoo. Goo has done it again?her overactive imagination has conjured up a group of diabolical cosmic invaders, the Space Nut Boogies. They've raided Foster's Home for Imaginary Friends and taken Madame Foster hostage in search of The Greatest Thing in the Universe, and it's up to you to stop them! Play as Bloo as you explore the Foster's house, sneak past the Space Nut Boogie guards, and gather Mac, Coco, Eduardo and the rest of the gang to rescue Madame Foster!
The Wheelman (PlayStation 3, Xbox 360?, PC; Winter) - Starring Vin Diesel in The Wheelman, you're on the run from the mafia in the U.S. and returning to Barcelona, a place where you have a dark past and criminal gangs infest the city. It's your job to set the factions against each other to cover a daring heist. With a focus on over-the-top, intense vehicle combat, build your reputation by undertaking missions, taking part in challenging events, all the while looking to pull off stylish, extreme driving stunts.
TNA iMPACT! (PlayStation 3, Xbox 360, Wii, PlayStation 2; Spring) - TNA iMPACT! is set to be the most complete wrestling videogame to date. Featuring top talent such as Kurt Angle, Christian Cage, Rhino, Christopher Daniels, Jeff Jarret, AJ Styles and more, TNA iMPACT! will deliver all of the excitement and action of the top-rated weekly television show.
The Bee Game (Nintendo DS & Game Boy Advance, November) - The Bee Game for Nintendo DS and Game Boy Advance lets players experience the adventures of Maya the Bee and her friend Willie as they search for their friends. A strong storm has blown through corn poppy meadow and some of the residents of the hive are now missing! Help Maya and Willie by taking on challenges and completing mini-games to find clues in the meadow, dark forest, blue pond, deep caverns and the garden to locate the other bees.
The Lord of the Rings Online: Shadows of Angmar (PC, Available Now) - The Lord of the Rings Online is the world's first and only massively multiplayer online (MMO) role playing game based upon the literary works of J.R.R. Tolkien. Gamers of all levels will establish their unique reputations, explore incredibly detailed realms and join familiar Tolkien characters, while adventuring solo or in fellowships within an evolving and persistent re-creation of Middle-earth. The Lord of the Rings Online: Shadows of Angmar is developed by Turbine, Inc. and co-published by Midway in North America.
Hour of Victory (PC, Fall) - Hour of Victory allows you to play a key role in the pivotal and cinematic battles from the European and North African theaters of World War II, using the skills and gameplay style you choose. Built with Unreal Engine 3.0, Hour of Victory allows you to sneak into enemy territory as a covert operative, storm the gates as a British Commando, or snipe from afar as an Army Ranger - each character's unique attributes will be needed for the fulfillment of the overall objective. Only with all these skill working closely together will you be able to say that you helped define the Hour of Victory.
Staff Writer at CinemaBlend.
Your Daily Blend of Entertainment News
Thank you for signing up to CinemaBlend. You will receive a verification email shortly.
There was a problem. Please refresh the page and try again.