Mighty No. 9 Crowdfunding Ends At More Than $4 Million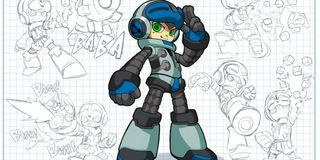 Yet another video game mega success story on Kickster, Comcept USA's Mighty Number 9 wrapped up its run yesterday morning with a final pledged total of $3,845,170, ever-so-slightly surpassing its initial goal of $900,000.
Quick to help fans make their future gaming dreams come true, however, Comcept also opened up a PayPal account in conjunction with the closing of their Kickstarter campaign with the promise that any monies earned there would go directly into the game's remaining stretch goals. That PayPal option pulled in another $186,380, pushing the entire run over the $4 million mark.
Originally planned for PC, this spiritual successor to the Mega Man series quickly blasted past the $1,350,000 benchmark, adding Mac/Linux versions of the game to the production plan. Then PS3/360/Wii U support came at $2,200,000. The line for PS4/Xbox One was crossed at $3,300,000, with the portable versions being added $3,500,000.
It should be noted that Kenji Inafune's latest project easily shot past its initial $900k goal in less than 24 hours and that those additional platforms are only scratching the surface of all of the additional stretch goals that were cleared. The final funding amount means Mighty Number 9 will also be receiving a truckload of enhancements, including stuff like a challenge mode, extra stages and bosses, a new game plus and turbo mode, special online co-op stages, a support character, online battle race mode and more. Yeah, it's kind of a big deal. And to help keep everyone up to date on the progress of the game, one of the stretch goals even provided funding for a making of documentary for the game.
You can get a taste of what's to come now, however, simply by visiting the Mighty No. 9 Kickstarter Page. A full list of stretch goals is available there, as well as lots of concept art, behind the scenes looks at the early stages of development, info on the major team members and more.
As a special added bonus for classic gaming fans (or fans of fantastic music in general), it was also announced that Mega Man 2 composer Takashi Tateishi has signed on to work on the game.
And with that, we're all once again left with yet another reason to sing the praises of crowdfunding. All signs point to Mighty No. 9 having all of the ingredients necessary to make a truly epic side-scrolling platformer, and none of it would have been possible without the support of fans who are so excited to play the game that they're willing to plop down their money before the thing has even been made. Now all we have to do is wait until 2015, when the game is currently scheduled to be ready to launch. Yeah, that won't be an agonizing wait. Not even a little bit.
Staff Writer for CinemaBlend.
Your Daily Blend of Entertainment News
Thank you for signing up to CinemaBlend. You will receive a verification email shortly.
There was a problem. Please refresh the page and try again.