Mighty No. 9 Surpasses Kickstarter Goal In One Day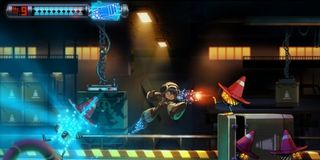 Well, that didn't take very long. Just one day following the launch of the Mighty No. 9 Kickstarter campaign, legendary game creator Keiji Inafune's passion project has already topped its lofty $900,000 funding goal and is well on its way to the first stretch goal benchmark.
We announced yesterday that Inafune was looking to create a spiritual successor to his uuber popular Mega Man franchise, a new game that, let's face it, looks and sounds a heck of a lot like a rebirth of the Blue Bomber's storied franchise.
Inafune announced Mighty No. 9 during PAX over the weekend, saying that he and his team would be turning to crowdfunding website Kickstarter to make their dream a reality. The proposed game has a lot in common with the Mega Man series but, as Inafune stated himself, the game would aim to add an old school flavor to an action platforming game designed for the current generation of consoles. Or, as the Kickstarter page puts it, "Classic Japanese side-scrolling action, evolved and transformed by Keiji Inafune, an all-star team of veteran Mega Man devs…and you."
In the game, the player takes on the role of Beck, the ninth robotic creation in a long line of machines that have recently been infected by a mysterious computer virus. Beck must now venture through a collection of stages themed after each of these robot menaces with an epic boss battle crowning each tough-as-nails challenge. Just like in Mega Man, players will be able to tackle levels in any order they choose, earning new abilities to help them in their quest along the way.
The Mighty No. 9 Kickstarter campaign began yesterday morning with a goal of $900,000 and, as of this writing, has skyrocketed to more than $973,000 in just 24 hours.
With 29 days left to reach its stretch goals, Inafune and Co. (collectively known at Comcept USA), aim to bolster the game with loads of additional content, too. At $1,200,000, the team will add an additional two stages to the six that are already planned. At $1,350,000, Mac and Linux support will be added for what is currently planned as a PC exclusive. The real goal for console gamers, though, is $2,500,000, which will fund PS3, Xbox 360 and Wii U versions of the game. It's a lofty goal, but seeing as how the campaign has nearly reached its first million dollars in a single day, it's entirely possible that Mighty No. 9 could pull it off.
To help sweeten the pot, the usual assortment of contributor goodies has also been established, including a digital version of the game at the $20 level, as well as soundtracks, a physical game box, beta access, t-shirts and more at higher levels. There's even high tier options for those who wish to create a challenge within the game, have their voice appear in the ending theme, put their face in the game, help design an enemy or even go out to dinner with Inafune himself. That last one will set you back $10,000, for those who are curious.
Your Daily Blend of Entertainment News
Staff Writer for CinemaBlend.