Minecraft Creators Delay Their Next Game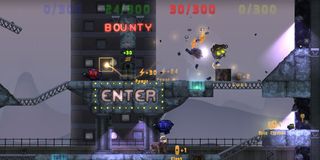 Minecraft studio Mojang hoped to release their game Cobalt on October 30th. Unfortunately, that won't be happening.
In a blog post on their website, Mojang says that the game is now scheduled for a February 2016 launch on Xbox One, Xbox 360 and Steam. The reason? Yep, you guessed it: "polish."
They added that they don't actually need an extra four months to fix all of the game's bugs. However, the planned Xbox One and Xbox 360 versions pushed back the launch a bit as well:
Cobalt, published by Mojang and developed by Oxeye Games, is a 2D action game starring cyborgs. One to two players can shoot their way through the adventure together using a range of weapons and power-ups. The game also supports competitive multiplayer for up to eight combatants in several modes. Other major features include a survival mode, weapon upgrades and a level editor on PC and Mac.
If you're a PC or Mac owner, you can play the game right now. Mojang and Oxeye are selling the alpha version through the game's website. The alpha, which the developers say is now "remarkably dated," comes with a Steam key for the full version of the game. Furthermore, buying the alpha is about half as expensive as the full version.
Cobalt will be the third post-Minecraft game released by Mojang. The first, strategy game Scrolls, was released in December 2014. Mojang recently announced that they're no longer developing new content for the game and could shut down the servers next year. The second was Minecraft: Story Mode, a collaboration with Telltale Games. Story Mode's first episode is available now and will be followed in the coming months by four more.
Staff Writer at CinemaBlend.
Your Daily Blend of Entertainment News
Thank you for signing up to CinemaBlend. You will receive a verification email shortly.
There was a problem. Please refresh the page and try again.