Minecraft: Story Mode Is Launching In October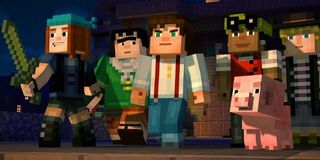 Minecraft: Story Mode, an adventure game spin-off of the open-world building series, is almost here. Today Telltale Games announced that Episode 1 of Story Mode will debut in October.
Episode 1, entitled "The Order of the Stone," will launch digitally on October 13th. You'll be able to download it for PC, Mac, PS4, PS3, Xbox 360 and Xbox One. The PC and Mac versions will be available through Telltale's own store, Steam and other retailers.
Those aren't the only platforms receiving Minecraft: Story Mode, though. Android and iOS users will be able to get the game on the 15th. Wii U and Vita owners will have a crack at the game eventually as well though Telltale hasn't provided release dates for those platforms.
Telltale will release boxed copies of the game to stores on October 27th in North America and on October 30th in Europe. The game disc inside the package comes with the first episode and will also grant access to downloading the future episodes as they're released. North American gamers can get physical versions of the game on PS4, PS3, Xbox One or Xbox 360. Their counterparts in Europe can do the same but also have the option of buying a boxed copy of the PC version.
Minecraft: Story Mode's season is spread over five episode. The adventure stars Jesse, an unlikely hero who has to prevent the destruction of their blocky world:
Telltale lined up a great voice cast for the game. Comedian Patton Oswalt and Clone Wars' Catherine Taber play the male and female versions of Jesse, respectively. Joining them on the cast are Ashley Johnson, Corey Feldman, Brian Posehn and more. Telltale says they'll make more announcements as the season proceeds so presumably they've got some big cameos up their sleeves.
Your Daily Blend of Entertainment News
Staff Writer at CinemaBlend.