Minecraft: Story Mode Announced By Telltale Games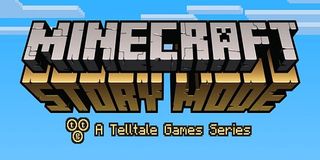 Here I was thinking nothing Telltale Games could possibly announce would surprise me and, this morning, the adventure game developer goes and reveals Minecraft: Story Mode – A Telltale Games Series. I stand corrected.
In case that name is ringing a bell but you can't quite figure out why, Telltale Games are the fine folks behind such games as The Walking Dead and Wolf Among Us, as well as the more recently launched Game of Thrones and Tales from the Borderlands series. They all follow a similar adventure game formula of investigating environments, solving puzzles, interacting with NPCs and making decisions that will affect the outcome of major events.
Here's the thing: I'm not exactly sure how that's going to translate to a game like Minecraft, which is primarily about digging holes, fighting Creepers and building replicas of Westeros because you're an insane person. But don't take that to mean that I doubt, in any way, that Telltale will be able to pull it off.
The studio isn't always spitting hot lava but, over the past few years, their hits have far outnumbered their misses and, if anyone can turn Minecraft into an entertaining adventure game, it's these guys.
And it looks like that's exactly what they're going to do, according to a blog post that went live earlier this morning. We can only assume that additional seasons of their successful series are already in the works and that plans are probably moving along for potential GoT or Borderlands follow-ups, but if I had to guess what new IP they'd be working on next, it certainly wasn't Minecraft.
And you know what? That's actually great news. They've been very unpredictable up to this point and I wouldn't have it any other way.
"Minecraft: Story Mode will be an all-new narrative-driven game series developed by Telltale in collaboration with Mojang," reads the blog post. "Set in the world of Minecraft, the series will feature an original story, driven by player choice."
In case there was any confusion, the post goes on to explain that this will be a standalone title for PC and consoles, not an expansion to Minecraft. I also find it humorous that they feel the need to explain that this will be an original story for Minecraft, as it's not exactly what I would call a narrative heavy series in the first place.
Considering how out of left field this is, we'd be interested in hearing what our readers are expecting or hoping to get out of this latest Telltale creation. Should it be voiced? What type of story are you expecting? Will there be dragons? Can there please be dragons?
Next up, look for Telltale Games: A Telltale Games Series.
Staff Writer for CinemaBlend.
Your Daily Blend of Entertainment News
Thank you for signing up to CinemaBlend. You will receive a verification email shortly.
There was a problem. Please refresh the page and try again.