Minecraft Windows 10 Edition Revealed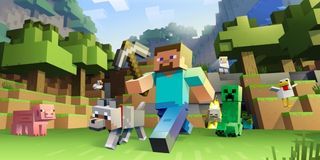 Microsoft will have a new version of Minecraft ready at the end of July for the launch with Windows 10. The new version will be free for those who already own the game and it will cost a moderate $10 for a limited time for new users.
IGN rolled out the news, explaining that the game will be available to those who already own it and newcomers alike. The Windows 10 edition of Minecraft will launch on July 29th alongside the new operating system from Microsoft.
Interestingly enough, it's mentioned that the Windows 10 edition of Minecraft will first launch in beta form. I'm not exactly sure why but thereafter the game will be patched up to par. What the game will have or what it'll be missing compared to the other version of Mojang's popular open-world survival game.
One thing they do make quite clear is that there will be some brand new control mechanisms available that can allow players to seamlessly switch between the mouse and keyboard, a controller, a touch-screen and a touch-pad. The really cool part about it is that it automatically adjusts on the fly. So if you get tired of playing on keyboard and mouse and you pick up a controller it'll automatically switch over without requiring tweaking. There are a few games that already do this on Steam – mostly games that are ported over from home consoles. You can seamlessly just press buttons on the preferred control device and some games will automatically switch it over to that device without requiring users to go fiddle around with the settings in the options menu.
Another new feature is the ability to play local multiplayer and online multiplayer via Xbox Live. Via local multiplayer I wonder if they actually mean native split-screen play on the Windows 10 version? For those who don't know, a lot of Windows 10 properties and games can be streamlined to the Xbox One by connecting an Xbox Live account to Windows 10. So if you can actually play local split-screen play on PC without having to stream the game from the Xbox One version, then that would be pretty cool.
If the cross-platform compatibility is also implemented then that could also extend the game's appeal as players interact with each other from PC to Xbox.
In addition to this, IGN notes that game streaming, recording and sharing is also available via the built-in GameDVR function. This should make it easy for live-streamers and up-and-coming YouTubers to record game content in Minecraft and edit and upload it on the fly.
Supposedly all the current features of Minecraft will be iterated and brought over into the Windows 10 version of the game after it launches at the end of the month.
It's important Microsoft gets a foothold on the OS market if they want to retain the PC gaming audience because this fall Valve's Steam Machines are set to launch with the open-source SteamOS, based on Linux's Debian. Having Minecraft help kick off Windows 10 will automatically help a bunch of gamers migrate over to the new OS with no questions asked.
Your Daily Blend of Entertainment News
Staff Writer at CinemaBlend.