Monster Jam: Path Of Destruction Rips Onto Consoles This November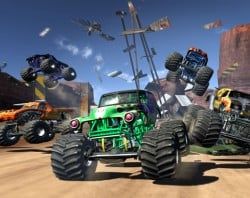 Activision has officially dated and named the new monster truck racing game for the Xbox 360, PS3, Wii, DS and PSP and unfortunately it's not called Monster Jam: The Way of the Mud. The new game is called Monster Jam: Path of Destruction and it's scheduled to land on retail shelves for major game platforms on November 9th.
As stated in the press release…
All the car crushing, mound jumping, fender bashing action that monster truck fans love and adore will also make the cut into the game. However, the customization options for the trucks sound pretty darn awesome.
You can, of course, jam pack your head with all sorts of media, info and insight for the upcoming game by taking a stroll on over to the Official Monster Jam Website.
Your Daily Blend of Entertainment News
Staff Writer at CinemaBlend.