NBA Elite 11 Cover Athlete Is Kevin Durant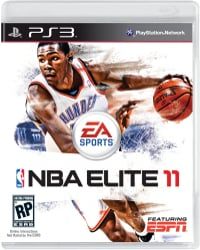 Oklahoma City Thunder small forward Kevin Durant will be serving as cover athlete for NBA Elite 11. The game's final box art was released today as well.
Durant, previously the cover athlete for NCAA March Madness 08, was the second overall pick in the 2007 NBA Draft. As with all cover athletes, his previous season was extremely impressive. He led the entire league in scoring (making him the youngest player to do so) and in doing so helped his team get to the playoffs.
NBA Elite 11 will be released for the Xbox 360 and PS3 in October. It's the first game to use the NBA Elite name, which is replacing the NBA Live brand.
Staff Writer at CinemaBlend.
Your Daily Blend of Entertainment News
Thank you for signing up to CinemaBlend. You will receive a verification email shortly.
There was a problem. Please refresh the page and try again.