NYCC: Battlefield 1943 Price, Size, Release Details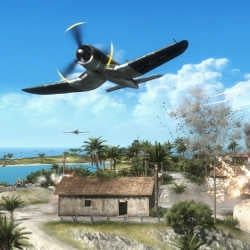 While speaking with Battlefield 1943 producer Gordon Van Dyke at New York Comic Con, Blend Games learned what you should expect to pay for the Xbox Live Arcade/PSN/PC shooter, if it'll fit on your hard drive, and whether or not you'll be able to buy it in stores.
For Xbox 360 and PS3, you'll only be able to purchase the game digitally. However, for the PC, EA still apparently hasn't decided whether or not they'll release boxed copies of the game. Whether or not you can pick up a BF 1943 disc at your local games store, they will definitely be selling it digitally. Prior to sitting down with Van Dyke, Blend Games also spoke briefly with EA Games publicist Kelly Ekins who confirmed that a decision hadn't been made regarding boxed copies but that they'd have those details soon.
When asked about pricing, Van Dyke said that "Right now we haven't nailed that down. But we're going to be around the pricing of premium downloads for Xbox Live Arcade like Braid or Penny Arcade."
We then asked for a clarification, as the first Penny Arcade episode was 1600 Microsoft Points ($20) while the second episode, along with Braid was 1200 ($15). "1200 Microsoft Points," he replied.
Fifteen bucks? Not a shock given the scope of the game. What was surprising, though, was how small the game file figures to be. Van Dyke told us that the engineers had estimated the game would come in at a lean 350 MB, despite being powered by the robust Frostbite engine also used with Battlefield: Bad Company and its sequel. They managed to keep the game so slim by including no videos and by being economic with sound effects.
After getting all that information from Van Dyke, we tried to press our luck and get a more narrow estimate on the release date. Unfortunately, they're still not sure on a date or month - and don't want to give a bad estimate and piss off fans - but Van Dyke could guarantee that it will hit this Summer.
Staff Writer at CinemaBlend.
Your Daily Blend of Entertainment News
Thank you for signing up to CinemaBlend. You will receive a verification email shortly.
There was a problem. Please refresh the page and try again.