Naruto: Uzumaki Chronicles 2, PS2 Fact Sheet And Trailer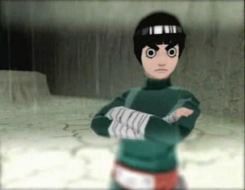 The PlayStation 2 is still on a roll. There's tons of games coming out for Sony's previous-gen console and some of them happen to riddled in innovation and fun concepts. One of those games happens to be Naruto: Uzumaki Chronicles 2. It's an adventure fighting game that takes Naruto and his friends on a wicked-cool adventure with breathtaking fighting.
If there's one thing I have to tip my hat off to Namco Bandai on is their seemingly excellent choices for publishing PS2 titles. I'm not saying all their games are great, but hot dang-it, Naruto games are just a blast. And if there's any indication from the following trailer, and the provided fact sheet, this game just may keep the PS2's momentum in high gear.
"In response to the overwhelming success, we felt compelled to give fans a superior sequel to NARUTO: Uzumaki Chronicles by digging deeper into the series; allowing gamers to become further engulfed into the ninja lifestyle," said Makoto Iwai, Executive Vice President and COO at NAMCO BANDAI Games America Inc, "NARUTO: Uzumaki Chronicles 2 will deliver the excitement of ninja combat on a massive scale while remaining true to the unique franchise."
Below is the fact sheet and below that is the trailer. Naruto: Uzumaki Chronicles 2 will be out for the PS2 this summer.
Naruto: Uzumaki Chronicles 2 Fact Sheet:
• New Original Adventure Explore the Naruto world with a brand new story line that can only be experienced through NARUTO: Uzumaki Chronicles 2
• Multiplayer Co-op and Vs Battles During the game, a second player is able to join in on the action for a simultaneous two-player adventure! Or, fight head-to-head with a friend and battle it out for the title of Hokage.
• Multiple Modes of Play Additional gameplay modes further enhance the Naruto experience:
• Story Mode Play alone or with a friend and traverse a lush, 3-D anime-style world in which Naruto and his friends work together to unravel the mystery of the Shirogane Clan and their nefarious army of "puppet walkers." Hone your skills to become the ultimate warrior and unlock a secret chapter of the story.
• Mission Mode Take on a series of challenging side missions.
• Survival Mode Test your skills to become the ultimate warrior and unlock a secret mission.
• Multiple Playable Characters Choose your favorite ninja, including Naruto, Shikamaru, Rock Lee, Kakashi, Guy, Sasuke, or Choji, to complete story-driven missions and intense challenges.
• Character Customization Prove yourself in battle and earn money to create the ultimate warrior using Chips and Plates that can customize your character's speed, strength, stamina and even special moves.
• Lethal Attacks and Weapons Harness the power of Rasengan, Lightning Blade, Sand Coffin, and other moves, straight from the series!
Staff Writer at CinemaBlend.
Your Daily Blend of Entertainment News
Thank you for signing up to CinemaBlend. You will receive a verification email shortly.
There was a problem. Please refresh the page and try again.