Need For Speed: Rivals Progression System Detailed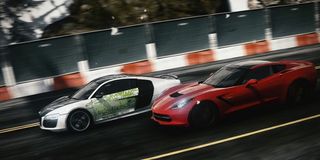 Ghost Games explained more of about their cops-versus-racers game Need for Speed: Rivals today. In a new blog post, they walked players through the progression system at the heart of the game.
Players will have the ability to personalize their cars from the very start with custom paint jobs, rims and license plates. To get everything else, you'll need to hit the road. With each new race you tackle, you'll unlock new cars, upgrades, pursuit tech (for cops) and cosmetic options. You'll get access to these new items by purchasing them with the SpeedPoints you've earned with your fancy driving.
There are two career modes for players to tackle. You can become a street racer or the police trying to run them down.
"Within each career there are three sets of Assignments (Cops) or Speedlists (Racers) that will progress you through the narrative," Ghost Games says in their blog post. "While the narrative helps push you through the game, how you pick your Assignments and Speedlists is totally up to you. As a Cop, your Assignments differ by Patrol, Enforcer and Undercover, and as a mysterious Racer named Zephyr you'll complete different Race, Pursuit and Drive Speedlists, and drawing the attention of the police force while you're at it."
Ghost Games promises a lot of replay value in Rivals. After you've completed the two career modes, you can go back and play any missions you skipped. The game also keeps track of how long it took you to complete each Assignment or Speedlist, so you can always replay them and try to outdo your personal best. The Autolog feature returning from previous NFS games will return and allow players to compare stats with friends or challenge them.
From the sounds of things, you could spend a lot of time simply exploring the game world as well. Ghost says that Rivals has over 100 miles of open roads, making it larger than the world of Most Wanted. What's more, Rising's world is filled with shortcuts not shown on maps so there's some incentive to scout out the locations before you race.
Need for Speed: Rivals will debut on the Xbox 360, PS3 and PC on November 19th. The PS4 and Xbox One versions will follow on November 22nd.
Image 1 of 4
Image 2 of 4
Image 3 of 4
Image 4 of 4
Staff Writer at CinemaBlend.
Your Daily Blend of Entertainment News
Thank you for signing up to CinemaBlend. You will receive a verification email shortly.
There was a problem. Please refresh the page and try again.