Need For Speed: The Run Michael Bay Trailer Goes Live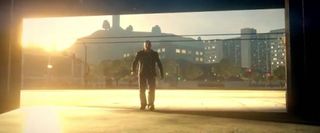 Absolutely everything you've come to expect from Michael Bay makes an appearance in the trailer he directed for Need for Speed: The Run. There's an obvious Megan Fox look-a-like, tons of sunset-hued shots, plenty of explosions, close-calls and over-the-top slow motion. Yes, this trailer reeks of Michael Bay 'Splosions™.
It was announced a short while ago that the famed action-movie director would be lending his hand to the promotional efforts of Need for Speed: The Run. It only makes sense given that the game has voices and likenesses of celebrities such as Mad Men's Christina Hendricks, Sports Illustrated models Chrissy Teigen and Irina Shayk, and is running on the destruction-heavy DICE engine, Frostbite 2.0. It couldn't be more obvious that this was a Michael Bay mixing pot just waiting to happen.
Of course, you didn't come here to read about the exploits of the man that made Transformers a summer blockbuster event, you came to see what he had to offer to the Need for Speed. So without further ado, lo and behold his masterpiece.
The only thing that trailer was missing was a movie voice-over guy saying "Get ready for the fastest, hottest action of the summer. Need for Speed: The Run, coming to theatres this summer." And I'm pretty sure if we didn't have a gazillion Fast & Furious movies, this project easily could have turned into a summer blockbuster.
You can look for this holiday blockbuster racing game to land on store shelves for the Xbox 360, PS3 and PC starting November 15th. You can pre-order the game right now for special bonuses or visit the Official Website to learn more.
Staff Writer at CinemaBlend.
Your Daily Blend of Entertainment News
Thank you for signing up to CinemaBlend. You will receive a verification email shortly.
There was a problem. Please refresh the page and try again.