Never Alone Brings Inuit Folklore To PS4, Xbox One, PC This Fall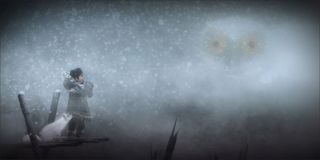 It's rare that we get games based around the histories of cultures outside of typical western America themes, the Great Wars or far east Asian mythologies. Well, given that the tools of game design have changed greatly with the ever-morphing cultural tapestry of human society, it has opened up an opportunity for a wide variety of interactive opportunities to be explored within the electronic entertainment space. That makes me proud to say that we're getting a very unique, culturally rich gameplay experience in the upcoming folklore adventure tale, Never Alone from Upper One Games.
This beautifully rendered, almost environmentally-minimalist platformer is steeped heavy in the history of the Inuit tribes of the north Alaskan plains. As explained on IGN, players will assume the role of a young Iñupiaq protagonist named Nuna. She's joined by the game's deuteragonist, the arctic fox.
The game can be played either in single-player or cooperative two-player modes, as players journey through the great snow-caked plains to save the Alaskan natives; dealing with mortal environmental hazards, unforeseen enemies and natural dangers.
The game looks strikingly engaging, but don't just take my word for it. Check it out in the trailer below.
The game reminds me a lot of Zacharias Kunuk's Atanarjuat: The Fast Runner. The goal of bringing peace to the tribes through this great journey of self-discovery while facing down against likely and unlikely obstacles is a pretty cool thing.
A lot of users on the YouTube page have commented that the game carries a strong sense of similitude with PlayDead Studio's Limbo. You can definitely see the similarities, mostly in regards to both games being side-scrollers. But I thought the themes and characterization – from what little that could be gathered from the video – seemed to hedge closer in relation to Clover Studios' Okami.
Still, being compared to the likes of Limbo is nothing to brush off. It was a highly respected, critically acclaimed game that was applauded for its stark and uncompromising gameplay by both critics and gamers alike.
Unfortunately, there was no mention as to what the game's resolution and frame-rate would be like on the PlayStation 4 and Xbox One. However, I would probably hazard a guess of 1080p and 60fps on the PlayStation 4 and perhaps 900p and 60fps on the Xbox One, or maybe 1080p and 30fps. We all know that the Xbox One suffers from resolution dysfunction. It's just the way of things until Microsoft can pump some software Viagra through the system's firmware veins to unleash its true "Banana Surprise", potentially with DirectX 12 or "The Power of the Cloud" or mythological stacked GPUs or tiled resources.
Anyway, Never Alone is set for release this fall, and I can readily and easily say that the game looks fantastic. You can look for it to launch on the Xbox One, PS4 and PC. For more information feel free to pay a kind visit to the game's official website.
Your Daily Blend of Entertainment News
Staff Writer at CinemaBlend.