Oculus Getting Facebook Interface; Notch Cancels Minecraft For Oculus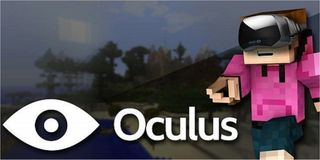 Well that didn't take long. New reports have already emerged that the Oculus Rift will get a complete re-branding from Facebook with a brand new interface and logo representation, in order to further tie the virtual reality device into the social media culture.
Following the recent news about the Facebook acquisition of Oculus VR, a recent article published on the New York Times offers a bit more insight and details on the recent deal between Oculus VR and the multi-billion dollar social media machine known as Facebook.
The most interesting bit was about the change in the way the Oculus will be represented to the public – which, prior to the Facebook deal, the device was wholly enraptured with the hardcore gaming audience – with the article stating...
Zuckerberg also mentioned that a lot of computer users spend 40% of their time gaming and 40% of their time with social media. I imagine the other 10% is porn? The "Bergman" wants to marry those two 40 percents together and create an 80% Facebook monopoly between your gaming and your social media activity.
If that doesn't send shivers down your spine you might want to check your pulse and make sure you're not an organic template stretched over a solid titanium alloy endoskeleton sent from the future.
In fact, Markus "Notch" Persson, the creator of Minecraft, quickly took back his praise and approval of the Oculus VR after finding out about the Facebook deal, plastering the mushy contents of a sloppy room called an opinion all over Facebook's close cousin, Twitter...
Good on you "Notch", I'm glad someone keeps their balls duck-taped to their Jimmies.
For those of you who don't know, Facebook was also one of the prime sources of NSA infiltration during the PRISM scandal. If that doesn't bother you one bit, maybe finding out that the NSA collects a lot of personal, sexually private material from their snooping will change your mind? Are we getting creeped out now? No? Well, you need to stop fawning over Being John Malkovich because now you're just being creepy.
Anyway, those of you looking for some 8-bit blocky immersion using a commercially viable rendition of the Oculus Rift are now fresh out of an opportunity for such fun. It's a shame, because Mark Zuckerberg just spent $2 billion dollars to buy up the fun you won't be able to experience.
Now some poor 10 year old will have to sit in a rocking chair in a corner, thinking solemnly into the dark recesses of the night about the opportunity he'll never get to experience, which involves strapping on a Rift headset and venturing down into the deep canals of a mine next to a house built on cliff-side while he plays with a man too old and too creepy to be trolling a pubescent kid. Thanks Zuckerberg for ruining a childhood memory that may not have ever existed even if you didn't buy up Oculus VR.
Meh, at least you get to enjoy a 9-year-old getting trolled in Minecraft by an old creepy guy anyway. Enjoy.
Your Daily Blend of Entertainment News
Staff Writer at CinemaBlend.