PAYDAY: The Heist Update Adds Difficulty Level, New Masks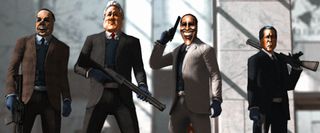 Overkill Software released a big update for their PS3/PC co-op shooter PAYDAY: The Heist today. The free update adds new challenges and rewards for you aspiring criminal masterminds.
The patch introduces new masks for players to earn. Once you hit level 145, you'll unlock presidential masks so you can look like Bill Clinton, Richard Nixon, George W. Bush or Barack Obama. New BEEEF masks are available in the game lobby as well.
A new difficulty level, OVERKILL 145+, will give players above level 145 an extra challenge. This difficulty level features new events and achievements as well as leaderboards. You'll also get access to new weapons, such as a crowbar for opening doors. Completing all the heists on OVERKILL 145+ will unlock a Golden mask.
Here's the list of other features in the DLC:
Drop-In: With the added in-game drop-in ability, players can set the server to allow for others to join the game mid-heist. Players can also filter players by setting server reputation and difficulty requirements.
SWAT Tactics: The SWAT captain has trained a slew of new recruits, resulting in challenging new tactics and counter measures for players to face on each of the heists. Sweet Moves: Players can check out new weapon animations for the Shotgun. Law enforcers now move more tactically than ever before. Even civilians have new dance animations in the DIAMOND HEIST.
Portrait Window Additions: Players can now see the name of the character they are currently playing in the portrait window while in game.
Compare Worldwide: PC Players can now view statistics on how many players in the world have completed the different heists on all difficulties through the "SELECT HEIST" menu.
Expanding Field of View (FoV): PC Players can now choose what FoV they want to use ranging from 60 to 100 through the advanced graphics menu.
DIAMOND HEIST Music: For PC players, as a token of appreciation to the community, 200 of the most dedicated career criminals' nicknames have been immortalized in-game. The DJ has added a new music track, doing shout-outs to 200 players in the community.
A few images from the update are below.
Your Daily Blend of Entertainment News
Staff Writer at CinemaBlend.
Your Daily Blend of Entertainment News
Thank you for signing up to CinemaBlend. You will receive a verification email shortly.
There was a problem. Please refresh the page and try again.