PC Review: Gaming Goes To War With The WarBoard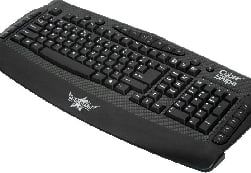 Device type: Keyboard
Price: $69.99
Platform(s):PC
Developer: Cyber Snipa
Website:www.CyberSnipa.com
System requirements: USB port, 5MB disk space, Windows Vista, XP, 2000, ME
Rating:
Before there were joysticks and gamepads there were only keyboards...and not very good keyboards. Well Cyber Snipa is taking the dominance of the keyboard and mouse combination to new heights with their Warboard, customizable keyboard. Simply put, it kicks butt.
First off, what is the Warboard and what does it do? Well, it's a keyboard and it enhances your gameplay experience. It comes with custom key replacements, a key changer and software for macro and mouse/key combinations. There's a total of ten macro keys that can be doubled with a secondary mode function button that allows for up to twenty macros. I'll explain more about that feature later.
Now once you get this bad boy out of the packaging the first thing you'll notice is the sleek black design. It comes with a logo-embedded wrist-pad and is setup woth a comfortable ergonomic design. Now for those of you wondering whether this is just a glorified joystick in the form of a keyboard or an actual keyboard, it's definitely the latter. Everything you would find on your standard 102 key layout is present on the Warboard. But there's additional feature keys that include volume control, instant find, calculator, media playback controls, ten macro keys (five on the left and five on the right) and a giant target key that locks the Windows pop-up menu and prevents it from opening during gameplay (i.e., just in case you accidentally press the Windows key by mistake).
The installation for the Warboard is pretty standard. It's plug'n'play compatible, so all it takes is a free USB port and 5 megs for the macro key software installation. The entire process takes about five minutes, plus the mandatory reboot. It's literally just that easy. Kudos to Cyber Snipa for keeping things simple.
Now remember I was talking about those macro/quick keys? Yeah, well it's time to talk about them some more. After the installation is complete, the quick keys are eligible for use. A quick-menu icon is created so gamers can easily access the program and change around their perfect key-combination/macros with simplicity. Assigning a combination to a macro is no hard task, and only requires users to pick from one of the ten macro keys and choose what type of macro should be assigned to the key. This ranges from a combination of keys, a single-key repetition, or even a mouse and keyboard combination. There's even a multi-layer option for a sequence of combinations.
The prime purpose of the Warboard Key Configuration is setup for all types of gaming in which several keys must be pressed at once, or a sequence of keys must be pressed in quick succession (i.e., primarily MMOs and RTS games benefit the most from the Warboard). The Warboard also works wonders for arcade fighting games for PC that require complex combos. And since the Warboard Key Configurator allows users to adjust the delay between key presses, it makes it ideal for timed key combinations that must be pressed in a certain order within a certain time frame. Ideally, MMOs that rely on crafting, spells or attacks that need constant key presses (i.e., Anarchy, Guild Wars, EVE, etc.,) the Warboard proves to be extremely proficient for such games.
But there's also handy elements for action games; the replaceable keys make it convenient to designate icons to favored key functions. For instance, using the key replacer it's easy to have the 'R' key, for example, replaced with a bullet icon key that might represent a reloading function. There's also gun icons such as pistols and shotguns, or PlayStation relative icons that include square, circle, triangle and 'X'. The key icons aren't essential but they do look pretty darn cool.
Overall, Cyber Snipa's Warboard is a slick looking keyboard with a comfortable design and some fairly snazzy features. If I did have a gripe, it would be that maybe the actual design could have been a bit more round, for quicker access to all the keys. But as it stands, the detailed macro functions and the easy-access media panel keys, round out what I would definitely consider as being a great gaming keyboard.
Staff Writer at CinemaBlend.
Your Daily Blend of Entertainment News
Thank you for signing up to CinemaBlend. You will receive a verification email shortly.
There was a problem. Please refresh the page and try again.