PS4 Continues To Outsell Xbox One 5-To-1 In Spain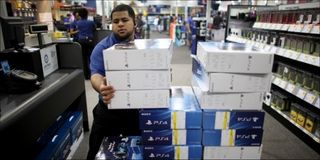 The PlayStation 4 continues to steamroll through the territories, making waves and killing the competition like lambs gone to slaughter, like Freddy rapes nightmares, like Jason stabs teenagers, like Republicans kill healthcare acts... you get the drift.
GimmieGimmieGames is reporting that Sony has unleashed a flurry of punches on Microsoft in the form of PlayStation 4 sales, noting that the fourth generation console from Sony is face-pummeling the Xbox One by a sales ratio of 5-to-1, and leads Microsoft's console by 181,000 units sold. Meaning, for every single Xbox One unit sold in Spain, five more PS4 units are sold, as detailed in their Spanish blog post. Technically, that would mean that Microsoft has only managed 36,000 units in Spain to date. Ouch.
Senior vice president of Sony Computer Entertainment Europe, James Armstrong, didn't hold anything back, stating...
According to the post, Sony also noted that between December 9th and December 16th the PS4 outsold the Xbox One by a ratio of 15-to-1. The reason the gap shortened to 5-to-1? Because Sony claims they ran into stock shortages. It seems to be a reoccurring trend for the company.
Funnily enough, though, even before December and the 15-to-1 gap, Sony was still moving more units in Spain throughout November, outpacing the Xbox One in sales by 3-to-1, as noted in an article on CVG.
Sony's stock shortages hasn't stopped them from nearly outselling the Xbox One by a million units, selling 4.2 million units to the Xbox One's 3 million.
The two corporate giants are locked in horns to battle for supremacy of the eighth generation of gaming, but so far Sony's PS4 seems to be the fastest selling of the major three home consoles on the market. Despite selling fast, Sony is still trailing behind Nintendo as far as overall sales go for the Wii U, with Nintendo's system honing in close to the 6 million mark for the install base. Some analysts believe that Sony will surpass that mark by the end of spring.
As far as the battle with Microsoft goes, it's not looking too great in the MS camp. According to an anonymous insider, though, the company may attempt to compete with the PS4 head-to-head in a price-point battle with a $399 Xbox One that comes without a disc drive, also known as "Xbox One: Castrated Edition".
Pro-Xbox One Advice: Microsoft is in a tough bind the world around as far as sales go in head-to-head competition with the PS4. Cutting any non-essentials from the package to lower the price would be a smart move, but if Kinect actually has some purpose for the future success of the console, then that's not an option. Cutting out the Blu-ray player to accommodate a lower price point seems counter-productive, as you're essentially paying $400 and getting less-than-the-equivalent functions you could get with a PS4 for the same price. It might be smart to ride out the wave of negativity, take the beating like a man and follow through with a strong software line-up of killer apps to help sell the system.
(Main image courtesy of Talk Vietnam)
Staff Writer at CinemaBlend.
Your Daily Blend of Entertainment News
Thank you for signing up to CinemaBlend. You will receive a verification email shortly.
There was a problem. Please refresh the page and try again.