PS4, Xbox One Back In Stock At Major Retailers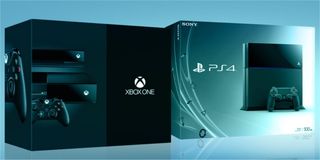 If purchasing a new generation console for a Christmas present didn't work out, don't worry you can still get yourself a new console from Sony or Microsoft at various retailers across the nation, from Toys R' Us and Kmart to Best Buy and Walmart, the stocks are replenished and your new-gen console experience awaits.
Nerdacy took the painstaking time to roll out a list of various retailers and e-tailers who all have the Xbox One and PlayStation 4 back in stock – as of the writing of this article, anyway.
Fry's Electronics:
Newegg:
Xbox One (opens in new tab)
PS4 (opens in new tab)
Amazon:
Xbox One (opens in new tab)
PS4 Bundles (opens in new tab)
Best Buy:
Xbox One Bundles (opens in new tab)
Walmart:
Xbox One (opens in new tab)
Toys R' Us:
Tiger Direct:
Xbox One Bundles (opens in new tab)
Sears:
Xbox One Bundle (opens in new tab)
Kmart:
Xbox One Bundle (opens in new tab)
You might want to work fast, though, it's likely that the PlayStation 4 will be sold out rather quickly, the way it's been since its debut in mid November last year, where it was breaking all kinds of records for Sony.
The PlayStation 4 has also been consistently selling out across Europe as well, easily making it one of the top selling devices of the holiday season.
Sony has to be terribly impressed with the performance of the PlayStation 4 so far. They've had a tough time keeping the supply of the system in stock. A lot of their momentum was fueled by gamer outrage over Microsoft's previous policies for the Xbox One that were pried out of their executives following the abysmal May 21st reveal of the console back in 2013.
Sony managed to carry that momentum from their February reveal last year into the battleground that was E3 2013, where they dropped massive bombs on Microsoft. This resulted in pre-orders for the PS4 skyrocketing. After Microsoft witnessed the pre-order disparity between the two systems, they quickly reversed the policies and "flipped the switch" on their DRM. However, the damage was already done and we're beginning to see how the sales difference is affecting both consoles coming off their November launches.
The Xbox One has incurred a lot of much-deserved hate over a rushed and generally unfinished feeling console. Some rumors indicate that Microsoft will be patching the Xbox One's OS soon to address many of the customer complaints as well as deal with a nagging connectivity issue they've encountered with Comcast services. In a way, I suppose all this news kind of reinforces why there are still more bundles and consoles available for the Xbox One from retailers than the PS4... in addition to the console being $100 more expensive.
Nevertheless, despite the strong PS4 sales, the console continues to trail behind the current market leader, the Wii U. The console still has a sizable lead on the PS4 as far as install base goes, but if Sony can keep up their momentum and keep selling out consoles worldwide, they might shorten the gap soon.
Of course, if you want a PS4 for yourself you'll probably need to act fast and grab one from an online or brick and mortar retailer as soon as possible before they're out of stock.
Your Daily Blend of Entertainment News
Staff Writer at CinemaBlend.
Your Daily Blend of Entertainment News
Thank you for signing up to CinemaBlend. You will receive a verification email shortly.
There was a problem. Please refresh the page and try again.