PS4's DualShock 4 Can Become Wireless PS3 Controller, Here's How To Do It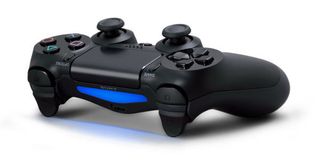 If you're really attached to your DualShock 4, you can use it as a controller for PS3 games as well. Gamers report that the DS4 functions wirelessly with the older console since the latest system update.
Here's what you'll need to do to set up the DualShock 4 as a wireless PS3 controller, via Reddit:
Under "Accessory Settings", select "Manage Bluetooth Devices"
Select "Register New Device" then start scanning
While the PS3 is scanning, press and hold the share button and PS button on the DS4 at the same time until it starts blinking
The PS3 should then see the controller from there. The DS4 is going to show up as a "Wireless Controller"
Once selected, the registration is complete
Pressing the PS button on the DS4 now will turn the controller on, the LED will light up white while it's on
If that's not clear enough, here's a video illustrating the process:
The PS4's Share and Options will function as Select and Start, respectively. The touchpad's presumably useless.
You don't have to worry about the DualShock 4 turning on your PS4 while you're playing PS3. The above steps pair the DS4 with the PS3 so it won't interact with your new-gen console at all - until you re-sync it with your PS4, anyway.
The PS3 sadly doesn't have full support for the DualShock 4 yet. The system just reads it as a generic controller so certain functions like SIXAXIS Motion and vibration don't work. This means you're SOL for games that revolve around those features. For example, I'd assume that Heavy Rain is impossible to play without SIXAXIS.
If you're curious what PS3 games work with the PS4 gamepad, check out this huge list on NeoGAF. It seems to be a work-in-progress but may help you out.
I'm hoping that the full PS3 support for the DualShock 4 is in the works. I think the DualShock 4 might be the best controller Sony's made (at the very least, it's a step up over the PS3) so the more I can use it, the better. I don't use my PS3 all that often anymore but when I do, it would be nice to use a controller that's not coated in dust.
DualShock 4 enthusiasts can use the controller on other platforms as well. The DS4 also supports Xbox One and PC, though it takes a few steps.
Staff Writer at CinemaBlend.
Your Daily Blend of Entertainment News
Thank you for signing up to CinemaBlend. You will receive a verification email shortly.
There was a problem. Please refresh the page and try again.