PS4 Faces Inventory Shortage In Europe; GameStop Has 1.5 Million On PS4 First-To-Know List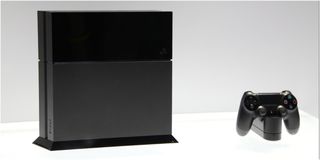 Hold on to your butts; the console war just got a little bit more interesting. There has been lots and lots and lots of good news for the Sony camp today. First up, the PS4 faces inventory shortages or a "sell-out" situation over in Europe coming off their impressive display at GamesCom. In addition to this, GameStop confirms that the PlayStation 4 indeed does have more than a million pre-orders waiting in the wings thanks to their first-to-know list.
VG 24/7 is reporting that GameInformer International has garnered word that GameStop has more than 1.5 million registered users on the PS4's first-to-know list, tying in rather closely with comments from Sony's group CEO Andrew House that there are more than a million pre-orders set in stone for the PlayStation 4 and the number continues to grow and expand exponentially.
Unfortunately, the Xbox One isn't nearly as popular as the PlayStation 4, garnering only 700,000 registered users on the first-to-know list. Now, this isn't indicative that these numbers actually represent 1 to 1 pre-orders for people who want to know when stock is available, but it does give a rough estimate of interest and demand. The first-to-know list for Sony ties in nicely with their actual pre-order numbers, while the Xbox One's first-to-know list could be indicative of something around the 360,000 – 400,000 pre-order ballpark based on where Sony sits with users who have PS4 pre-orders compared to their first-to-know list.
What's more is that those pre-orders aren't just indicative of what's happening Stateside with GameStop, it's also affecting their stock with European retailers as well. According to the Escapist Magazine, the Official PlayStation Magazine is repoting that U.K., based brick and mortar outlets say they could be behind the curve in providing everyone with a PlayStation 4 unit on day-one, according to one retailer, Shopto.
Sony U.K. Managing Director Fergal Gara further explained the situation, saying...
According to Gara, any pre-order placed after August 5th may not be guaranteed to be available on day one from the brick and mortar retailers. This is an unfortunate thing for anyone late to the pre-order party, but what's it matter if you have to wait a few weeks to get your hands on the most highly anticipated next-gen console in the past decade?
Gara offers a bit of hope for late pre-order customers, saying..
The PlayStation 4 is set for release on November 15th in North America and on November 29th in PAL regions. Analyst estimate that this could be the biggest video game console launch in the history of the video game industry.
Your Daily Blend of Entertainment News
Staff Writer at CinemaBlend.