PS4 Launch Window Includes 34 Games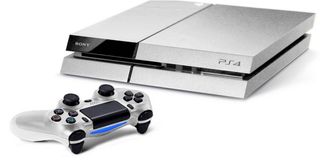 There has been a lot of back and forth banter on the only thing Microsoft may have done right with the Xbox One: its launch games. Well, Sony has basically rolled out a list of titles that will be available within the launch window of the PS4 leading up to the end of 2013 and it includes 34 rad games, spanning digital and retail releases.
PlayStation Lifestyle rolls out a very impressive list of the titles, breaking down the games that will be available via retail and games that will be available via digital distribution. Check out the complete list of games below.
Retail Games:
• Assassin's Creed 4: Black Flag (Ubisoft)
• Battlefield 4 (EA)
• Call of Duty: Ghosts (Activision)
• DriveClub (SCE)
• FIFA 14 (EA)
• Killzone: Shadow Fall (SCE)
• Knack (SCE)
• Just Dance 2014 (Ubisoft)
• LEGO Marvel Superheroes (Warner Bros.)
• Madden 25 (EA)
• NBA 2K14 (2K Games)
• NBA Live (EA)
• Need for Speed: Rivals (EA)
• Skylanders: Swap Force (Activision)
Watch Dogs (Ubisoft)
Digital Games:
• Basement Crawl
• Blacklight: Retribution
• Contrast
• CounterSpy
• DC Universe Online
• Doki-Doki Universe
• Flower
• Hohokum
• Minecraft
• N++
• Pinball Arcade
• Planetside 2
• Pool Nation Extreme
• ResoGun
• Starbound
• Super Motherload
• Tiny Brains
• Warframe
• War Thunder
Couple of things I should mention: There has been no word on when Primal Carnage: Genesis will launch for the PS4. Starbound was mentioned during the GamesCom conference as being a title launching for PSV and PS4 in late 2013, well within the PS4's launch window. Whether or not this was a mistake or if the game really will be launching with the PS4 remains to be seen, but Chuckle Fish is already taking pre-orders for Starbound so it stands to reason that it could launch for the system by year's end.
Also, I should reiterate that these are launch window games, which means that not all of the above listed titles will be available day-one for the PlayStation 4 but they will be out or made available within the first three months of the console's launch. Hence, launch window titles.
Now, compared to the Xbox One and their launch day games, Sony seems to be holding their own. Nevertheless, Sony appears to have an edge up in terms of end-of-the-year content compared to Microsoft.
Not only that, but Sony also seems to have a strong line-up of titles heading into 2014 from all manner of small, medium and large developers alike. Microsoft has struggled greatly with the indie community after they initially stated that their indie policies would largely remain the same as they were on the Xbox 360. However, after a lot of grumbling from developers (yep, developers can whine, too) Microsoft pulled another 180 on their indie self-publishing policies.
Microsoft further clarified how independent self-publishing would work during their private GamesCom conference for the Xbox One, as noted in a detailed report on the ins and outs of the new publishing platform, over on Venture Beat.
Nevertheless, Sony already has more than a million pre-orders under their belt for the PS4, and Sterne Agee analyst Arvind Bhatia stated that...
Sony also has more than 600 registered developers for the platform and a strong software line-up leading into 2014. Microsoft really has to play catch-up in both gaining more indie and mid-tier developer support, as well as ramping up the diversity and 2014 line-up of games for the Xbox One.
(Main image courtesy of Gamingbolt)
Your Daily Blend of Entertainment News
Staff Writer at CinemaBlend.