PS4 Has 1,000 Indie Devs Signed On To Make Games, Xbox One Only Has 250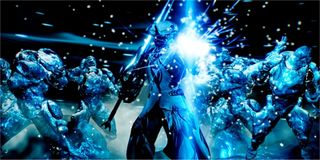 Over the next year the PlayStation 4 will receive 100 games. Those 100 games are basically guaranteed to launch in 2014. This was made clear in 2013 during Sony's E3 press conference. Even more than that, the future of the PlayStation brand is in good hands, as Sony has secured the services of more than 1,000 independent developers.
This news comes courtesy of the PlayStation Blog, where Joystiq spotted the update certifying that Sony is completely and entirely pro-indie, with head over developer relations, Adam Boyes, writing...
Boyes used the platform to celebrate and thank the gaming community for their continued support of the PlayStation brand. It's a remarkable moment of Sony giving indie devs a platform in which to share their creative voice, just the same as these developers are using that platform to help grow the PlayStation brand with some amazing and unforgettable titles for this eighth generation of home console gaming.
Sadly, on the opposite side of the fence we have a dirty old junkyard dog barking for attention; stuck in his old ways and coughing up the kind of phlegm that made most people sick of the past methods in the first place.
The competition against the PS4 is not really heating up at all, as Microsoft still hasn't learned where they stand in this current generation console war; they still think they control the market. They do not.
Microsoft had recently made it known on their Xbox newswire (opens in new tab) that the Xbox One sports a total of 250 registered developers with Xbox One development kits. Slow to curate, even slower to adapt.
The post above also included the news that 25 indie games are set to release on the Xbox One sometime "soon". Many estimate we'll get the first wave of titles on the XB1 throughout April.
However, if you look at the the market positioning of both consoles in how they're acquiring and growing their software collections, you'll see that Sony has been rolling out indie games on a regular basis alongside AAA titles. There is no budget bias in how they treat the smaller guys.
Heck, one of my personal favorites, Mercenary Kings, is launching on the PS4 this April and will be made available along with Batman: Arkham City as part of the PlayStation Plus benefit, following a string of other indie titles that have already been made available on the PS4 since its launch. I mean, the system went full-live with indie titles right next to their AAA offerings, throwing down the likes of Warframe and Blacklight: Retribution with high-end games like Assassin's Creed IV and Killzone: Shadow Fall. Other high-quality titles will also be landing on the system – self-published of course – such as War Thunder and Primal Carnage: Genesis.
The highlight of this battle is that you can see how Sony's strong reliance on wooing the indie crowd with promises of patch-fees waived and concept approval abandoned has resulted in them having an ever-growing line-up of a diverse selection of games, basically suited for every single gamer on the market. From low-ball chaotic affairs like Octodad to high-quality shooters like Shadow Warrior, the PS4 is getting any and everything in between. Having a thousand registered developers is actually paying off with tangible results and an ever-growing library of dynamic games.
Microsoft's ID@Xbox head-honcho, Chris Charla, has a lot of work ahead to even remotely catch up to Sony and their 1,000 dev-strong army. They'll definitely have to do better than 25 new games with sketchy release schedules.
Staff Writer at CinemaBlend.
Your Daily Blend of Entertainment News
Thank you for signing up to CinemaBlend. You will receive a verification email shortly.
There was a problem. Please refresh the page and try again.