Shadow Warrior Is Targeting 1080p, 60fps At Ultra Settings On PS4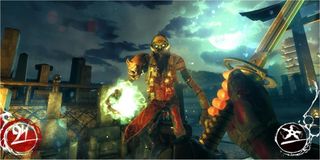 The PlayStation 4 will continue to get a bunch of PC ports from mid-budget/mid-tier studios. You know, the sort of games that used to flood the PS2 era back when game budgets weren't superfluous and overextended. One of the games scheduled to come to the PS4 is Shadow Warrior, the first-person shooter remake of the 1997 release from 3D Realms.
Shadow Warrior on the PS4 is targeting some pretty spiffy specs, with DSO Gaming catching word with Flying Wild Hog's lead programming engineer, Krzysztof Narkowicz, who stated that...
That sounds very promising. The idea of the game running at the "Ultra" PC settings on the PlayStation 4 is a pretty big deal, especially at 1080p and 60fps.
This is becoming a very common trend for the PlayStation 4, which is also pegged to receive Watch Dogs at 1080p and 30fps, along with Metal Gear Solid V: Ground Zeroes. In the more immediate future, say, next week, Thief will be one of those games hitting the 1080p at 30fps mark for the PS4. In fact, Eurogamer reached out to the development team to confirm that the upcoming first-person thieving game will indeed be native 1080p on the PlayStation 4.
Strangely enough, the Xbox One hasn't received any news about single A or mid-tier/mid-budget titles coming to the platform. You might consider Project CARS as one of these games, but it will be relegated to their ID@Xbox program since they don't have a publisher.
Sony and Nintendo seem to be targeting development studios working on games that aren't quite indie and yet aren't quite AAA... mid-budget wonders. One of the more highly anticipated of these games coming out for the PS4 is Primal Carnage: Genesis. The only problem is that we haven't heard much about the game since its announcement last year.
It's good that Sony has sought out additional games in the interim, and it's just as good that Sony's head of developer relations, Adam Boyes, is doing all within his power to grab the attention of studios that are making small waves in the PC gaming space. Everyone relating the PS4's potential prominence to that of the PS2's illustrious era are definitely not too far off.
I don't know if Microsoft has some sort of trick up their sleeve, but losing the resolution wars to the PS4 in the AAA arena and having a late start in the indie game does not bode well for the company. Their lack of single A titles is also becoming troubling, as they don't seem to have a lot of smaller games to fill out the platform's library in between massive releases like Titanfall.
Anyway, we'll keep you posted on when Shadow Warrior will launch for the PS4 in all its 1080p, 60fps, "Ultra" settings glory.
Your Daily Blend of Entertainment News
Staff Writer at CinemaBlend.