PS4 Sales Top One Million On Launch Day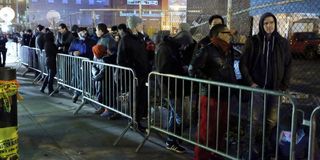 Sony has announced the first-day sales for the PlayStation 4. The next-gen console managed to sell over 1 million units on November 15th, the game's launch day in the United States and Canada.
Thousands of retailers throughout North America opened at midnight to sell the PS4. Our own Ryan Winslett was one of the gamers lined up to buy it.
"PS4 was designed with an unwavering commitment to gamers, and we are thrilled that consumer reaction has been so phenomenal," said Andrew House, President and Group CEO at Sony Computer Entertainment, Inc. "Sales remain very strong in North America, and we expect continued enthusiasm as we launch the PlayStation 4 in Europe and Latin America on November 29. We are extremely grateful for the passion of PlayStation fans and thank them for their continued support."
The PS4's off to a much better start than its predecessor. The PS3 took about two months to ship one million units in North America. At the time, the PS3 was Sony's fastest-selling new console ever.
Even better, the PS4 is more cost-effective for Sony. TechInsights estimates that the console's components cost about $296, resulted in a gross profit of about $100 on the $399 console. The PS3's components totaled about $688 at launch, meaning that Sony was losing about $88 for every one of the $599 units they sold. TechInsights attributes the PS4's lower cost to how much cheaper Blu-ray drives are now. The PS4's AMD processor is roughly half as expensive as the Cell processor that shipped with the PS3.
TechInsight's numbers are just an estimate, though. Other reports of the console's cost have been less optimistic. Sony Japan had told Eurogamer that they were expecting to make a profit on the "average purchase" of a launch buyer. In other words, they would make a profit off someone who bought a game or two with their console but not necessarily someone who just bought the console by itself.
Still, the overall point stands. The PS4 is selling faster than the PS3 and doesn't hemorrhage money like the older console did. Sony probably feels pretty good right now.
The PS4's main competition Xbox One will launch next Friday. I expect a lot of launch day sales comparison articles to flood the Internet a couple days later. A direct comparison will be tricky, though, because the Xbox One will be debuting in 13 countries rather than two.The total sales by the end of the holiday season will be much more illuminating.
Your Daily Blend of Entertainment News
Staff Writer at CinemaBlend.