PS4 Takes 89% Of The Vote Versus Xbox One In Green Man Gaming Poll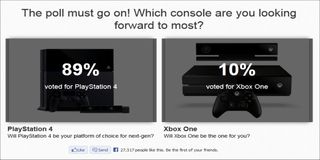 It seems to have become a cliché across the internet to denounce any polls between the Xbox One and PlayStation 4, as well as pre-order listings. Why? Because word around the digital block is that polls and pre-order lists are being gamed by the Sony Defense Force. Well, if that's true then you can add Green Man Gaming's poll to that ever-growing list of Sony-slanted websites out there trying to defame the Xbox One with that evil, evil message of pro-consumerism.
One of our readers, Ramon, tipped us off to Green Man Gaming's poll that's currently running on Facebook. It's using the same API as the Amazon poll and counts an entire account as a single vote. Is it possible people could make multiple accounts to game the system? Perhaps, but unless I'm mistaken I don't believe that the Green Man Gaming poll has made it to Reddit yet and I doubt the virgins on 4Chan caught wind of the poll as well...only people who visit Green Man Gaming would have wind of the poll for now.
Simply put, while people may have decried the results of Amazon's poll (which closed down early), as being gamed by fanboys the way Birthers blamed Obama's POTUS win on pot smoking hippies, I'm actually inclined to believe that the pre-order lists, the polls and the rankings tie-in neatly with the common sense outrage from consumers: they don't like SOPA in a box.
It's also worth noting that around the globe the pre-order lists seem to actually reflect all the protest from gamers who say they will stick to their guns and support the console that protects their rights as consumers.
While we're on the subject of Green Man Gaming, I guess it wouldn't hurt to at least let people know that the site is quite popular because it's one of the few distributors that allow gamers to trade-in their digital games. The site frequently runs sales and deals to help gamers get the most for their money. They also support some DRM-free titles and you can even buy games from them and activate them on Steam if you're keen on keeping all your games in one place.
All right, I've done my clerical bit for the Dorito Pope on the advertorial front, I hope they pay in proper Doritos this time around. Now, back to business.
Numbers for the pre-orders between the Xbox One and the PlayStation 4 haven't been made public, but with the PS4 leading both polls and pre-order charts, it's pretty safe to say that when both consoles launch Sony may easily take the lead due to the lack of region restrictions and being able to launch and work in more than just 21 countries.
Your Daily Blend of Entertainment News
Staff Writer at CinemaBlend.
Your Daily Blend of Entertainment News
Thank you for signing up to CinemaBlend. You will receive a verification email shortly.
There was a problem. Please refresh the page and try again.