PlayStation 4 Will Get The Most Advanced AI With Xaitment Middleware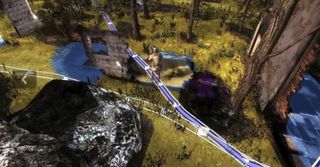 The next-generation of gaming is nearly upon us (for consoles anyway) and Sony is literally sticking to their promise of making the PS4 one of the most dev-friendly and cost effective platforms of games development as possible, by opening up the system to as many middleware facilitators as possible, including xaitment's AI middleware suite.
We've reported on xaitment's previous endeavors before, noting how they offer easy, functional, cost-efficient tools for lower-tier studios and AAA outlets in equal measures. The toolsets offered by xaitment are now fully functional and supported by Sony's PlayStation 4, which is both good news for gamers looking for more AI-rich interactive entertainment experiences and for developers looking to push the boundaries in AI routines and behavior.
CEO of xaitment, Mike Walsh, laid out a few comments regarding the support of xaitment for the PS4, saying...
Circling back around to the comments at the top of the article: Sony's focus with the PS4 is to incorporate as many outlets, opportunities and possibilities for developers to make use of, exploit and advance on game design using a variety of tools and kits made available for the PlayStation 4. In simple terms, Sony is ensuring that designing games for the PS4 will be as cheap and easy as possible so that developers can focus on making great games and gamers can spend more time playing them.
If the news has you excited, well, why wouldn't it?
If you're a dev (big or small) looking to find out more about xaitment and their xaitMap and xaitControl toolkits, be sure to pay a visit to the official xaitment website.
The PlayStation 4 is set for release later this year during the holiday season.
Staff Writer at CinemaBlend.
Your Daily Blend of Entertainment News
Thank you for signing up to CinemaBlend. You will receive a verification email shortly.
There was a problem. Please refresh the page and try again.