PlayStation Heroes Celebrate Gamers In Michael Commercial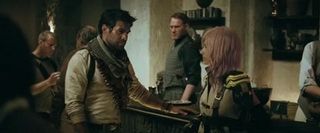 Remember that PlayStation teaser ad from a week or two ago? Well, Sony just released the full video showing us just what's inside that mystery lounge.
The lounge, as it turns out, is frequented by the characters of PlayStation games. Nathan Drake, Solid Snake, and Kratos are among the PS3 exclusive characters in attendance. There are also a bunch of characters from multiplatform games, such as Isaac Clarke and Altair. Definitely a weird party. Watch:
What brings such an eclectic group of people together? Well, they're celebrating you, the PlayStation gamer. The collection of gamer photos seen at the end were submitted by actual members of PlayStation Nation. Sony combed through thousands of entries to pick about a dozen or so winners.
"This is one small way of demonstrating our sincere 'Thanks' and to celebrate your tremendous commitment to PlayStation's thriving community," said Sony VP Marketing Scott Steinberg on the PlayStation.Blog. "And with PS3s available for under $250 – we welcome all gamers to come on board to experience the best in Blu-ray gaming."
What do you think of the ad? Does it make your little gamer heart swell with pride?
Staff Writer at CinemaBlend.
Your Daily Blend of Entertainment News
Thank you for signing up to CinemaBlend. You will receive a verification email shortly.
There was a problem. Please refresh the page and try again.