PlayStation Holiday Sale Begins With Tomb Raider, Wolfenstein, South Park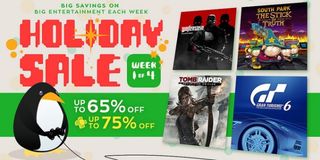 PlayStation is doing the holidays right, gifting gamers with four weeks' worth of discounts in a special "Holiday Sale," which is currently underway. If you're looking to buy some new games, movies or TV shows on the cheap, you'll want to give this one a gander.
Everybody has sales through the holiday, and digital marketplaces are no exception to that rule. Rather than celebrate Cyber Monday in a single 24-hour period, though, the folks over at PlayStation have decided to extend the festivities to a full four weeks, with a rotating crop of content for holiday shoppers to pick from.
Announced this week through the PlayStation Blog, this first list of goodies actually is pretty-dang hefty. And, according to Sony Network Entertainment Digital Distribution Manager Chieh Chen, it looks like this is only the beginning.
"Following [Tuesday's] PS Store publish, we're discounting a ton of games at up to 65 percent off. PS Plus members get an added bonus – receiving up to 75 percent off," Chen said. "The games on sale will change each week for the next four weeks, so remember to check PS.Blog to see which games will be on sale."
The first batch of discounts is good through next Monday, Dec. 8, so you've got a few days to make your purchasing decisions. Just remember that this whole process will repeat for another three weeks in a row, so budget accordingly.
The TV discounts for week one are the easiest to list, because your options are limited to Inuyasha: The Fainal Act and Naruto Shippuden Uncut. Episodes from those collections will set you back just $1.39 for SD and $1.99 for HD.
Oddly enough, only one movie in this week's lineup is holiday appropriate, but maybe they're saving the fa-la-la-la-las for a bit closer to Christmas. As it stands, you can grab A Princess for Christmas, alongside other movies like The Amityville Horror, Goon, a whole bunch of Naruto movies, the first four Rocky flicks, The Terminator and The Usual Suspects, among others.
What you'll probably be most interested in, however, are the games. As always, we'll cherry pick a few standouts here for you but, for the complete list, you'll want to check out that PS Blog post linked at the top of this story.
For starters, Assassin's Creed Liberation HD can be yours for 10 bucks, or just $8 with Plus. CastleStorm is available in three flavors, with Far Cry Classic up for grabs at a measly $3.
Flow is available on all thre PlayStation consoles for $2.40 regular and $1.80 via Plus, alongside South Park: The Stick of Truth for $20 or $16 with Plus.
The Vita's Sword Art Online: Hollow Fragment has been discounted this week, alongsive the PS3 and PS4 versions of Tomb Raider: Definitive Edition and Wolfenstein: The New Order.
Staff Writer for CinemaBlend.