PlayStation Now Doesn't Allow Disc, Digital Owners To Play Games They Already Own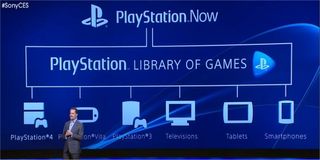 We briefly discussed this before but didn't really go into details about the issue surrounding ownership and PlayStation Now. But Sony made it clear that those who already own physical or digital copies of PlayStation titles won't receive discounts or free access to those same titles on the PlayStation Now service, as noted by Only SP.
For those who aren't aware, PlayStation Now is a new streaming service built on top of the Gaikai cloud service infrastructure. It allows Sony to adapt to the change in the network space and provide new services for gamers and media enthusiasts through streaming. The good part about the PlayStation Now service is that it enables fans of Sony's home entertainment consoles to play games from the expansive and historical library of PlayStation's past, but it comes at a very costly price, both figuratively and literally.
The new service makes use of the promise of "the cloud", a buzzword and marketing phrase that was uttered to no end throughout 2013 and is now being put into actual use in the home console arena. Just to be clear, cloud services are nothing new, it's literally just data stored on servers that you can access from anywhere with a viable, internet-ready device.
With things like Hulu and Netflix becoming standard-fare consumer services in recent years, it's elevated the prestige and integrity of rendering information in the cloud and allowing people to access the information from anywhere they like. Internet and broadband speeds have also come up to par to allow for moderate streaming capabilities.
In gaming, we've seen things like OnLive come and go and come again, along with a few other start-ups that never quite found their footing. A lot of this is because cloud streaming for gaming is a heck of a lot different than streaming for movies or music, where with the latter cases the data is cached and stored on a local drive as it downloads, enabling for smooth playback during elongated use.
For games, the data has to be ever-present and concurrent for interactivity purposes; there is no caching possibilities when it comes to cloud gaming. This means that the end-user needs top of the line internet speeds or else there will be tons of unwanted latency issues. This also means that you can't store any of the data locally since the emulation is taking place server-side. Technically, you'll always have to access Sony's servers in order to play older titles and you'll always need enough free bandwidth to do so.
All of this leads to a rather unfortunate situation for owners of physical content for past generation PlayStation titles: your games won't and don't carry over.
Even those with extensive libraries of PSX, PS2 or PS3 libraries, there's no way to translate that data into viable access to the PlayStation Now service without putting the brunt of the financial load on Sony. To compensate for this, the company is charging any and everyone who uses the service a fee (though that fee has not yet been disclosed).
The problem in this situation is that one-time purchases are unlikely to be available because it would cost Sony money for every time someone accessed the game for multiple play-sessions, where the bandwidth out-weighs the initial one-time purchase.
Some users don't mind the PlayStation Now setup where they pay to access the cloud service, while others feel it nullifies their previous game purchases given that they'll have to pay again (and likely on a monthly subscription) to access games they already own.
Despite being a rather clever way to provide backward compatibility for the PS4, it comes at the price of the benefits of intrinsic backwards compatibility for physical discs, given that owners of media will still have to pay again to access content. It also puts a lifespan on these games, as opposed to, for example, the Wii U where backwards compatibility is available for as long as you have the discs and the latest console.
It will be interesting to see how PlayStation loyalists adopt the PlayStation Now service, or if Sony will be able to market the service to casuals to help offload some of the costs of maintenance and expansion. One thing is for sure: the future of past video game libraries may rests in the hands of first-adopters willing to streaming older titles via the cloud.
Staff Writer at CinemaBlend.