The PlayStation VR Has A Rumored Release Window, Says GameStop CEO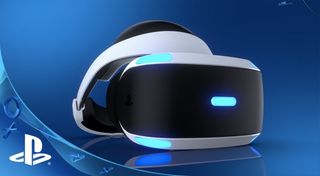 The release window for Sony's upcoming PlayStation VR may have just been leaked by the GameStop CEO, Paul Raines. This happened during an interview with Fox Business where they talked up the potential of VR technology and how VR could be an $80 billion dollar industry by 2025.
Shacknews picked up the story after it was featured in a four minute video that you can check out below from Fox Business.
The interviewers at Fox ask Raines how big of a business virtual reality technology will be and Raines explains that it's not something they have to invest much into on their end to gain great returns out of, saying...
That definitely hammers out a very direct release window for the PlayStation VR. Previously there was just a lot of guesswork about when it would be launching and at what price point. A lot of gamers have been curious about the PSVR due to Facebook and Oculus stepping up their game and announcing that their virtual reality headset, the Rift, will be available this March.
The only hold-up with the Rift is that the price point is kind of high and the Oculus Touch – their own proprietary VR gaming controllers – has been delayed. However, there are still a lot of people very excited about the Oculus Rift, and it was one of the first popular Kickstarter projects in the gaming scene that really made waves a few years ago.
Sony wants to compete, no doubt, and announced their Morpheus prototype back in March of 2014. They've slowly refined the experience and announced some stats and specs over the years, but they've kept a lot of the other details close to their chest. Rumors spurred that the PlayStation VR will be priced between $400 and $600, which is around the same price of the Rift, which is also $600. In all likelihood, though, Sony will probably try to bring the price down to something a lot more reasonable before it hits retail shelves for consumers.
The HTC Vive from Valve is also scheduled to launch this year, and they too have been very reticent about pricing. It's likely that other than Oculus, both Valve and Sony want to try to one-up their competitors when it comes to pricing their VR headsets. Whoever manages to get out the best bang for the buck will likely control market share, and that will determine which platform and company controls VR in the future. It's all very risky and extremely expensive.
Sony hasn't set a release date yet, despite Raines' mention of the PSVR launching this fall, but we'll see if they have more to share as the news begins to make the rounds.
Staff Writer at CinemaBlend.
Your Daily Blend of Entertainment News
Thank you for signing up to CinemaBlend. You will receive a verification email shortly.
There was a problem. Please refresh the page and try again.