Point Break Comes To To Payday 2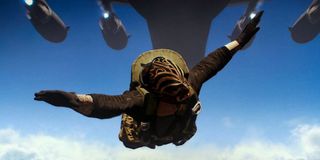 Payday 2 developers Overkill Software will be paying tribute to the film Point Break with two DLC packs. These add-ons, set to launch today, will introduce new heists and give players new options for criminal mayhem.
The first of the DLC packs is a Bodhi Character Pack, available for free. This allows you to choose Bodhi, a surfer/criminal mastermind, for your heists. He's armed with a utility knife for quick takedowns. His Platypus 70 sniper rifle has a dumb name but can tear through shields and multiple enemies. Overkill says you'll be able to one-shot most enemies if your aim is true.
Bodhi also has his own perk deck, called the "Ex-President." Here are some examples of the perks you'll be able to access:
Point Break - When your armor is up, you can store extra health for every enemy you kill. Any time your armor regenerates, you'll gain this stored health as well.
Life of Ice - Increases the amount of health that can be stored, while also boosting maximum health and dodge.
The Perfect Line - When your armor has fully depleted, every kill will increase the speed that it regenerates.
Rounding out the Character Pack are two new masks, one of which you can see in the trailer.
The Point Break Heists DLC is a more substantial add-on but unfortunately costs $7. As its title suggests, this DLC brings two new heists to the game called "Beneath the Mountain" and "Birth of Sky." These jobs will be given to you by a new contact named Vernon Locke, a mercenary threatening to bring down Crime.net if you don't work with him. By playing through these missions, you'll earn a combined 10 achievements. Here's the official description of each heist:
Beneath the Mountain - "Built deep into granite bedrock, Black Ridge was designed by the Air Force to survive a direct nuclear impact. After the Cold War, it was purchased by Murkywater, and re-fitted to act as a command center for the mercenary army. Locke knows there is loot stored in the deep vaults of this mountain fastness. He will guide you through it, supplying intel and assets. Can Black Ridge survive a direct attack by the Payday gang?"
Birth of Sky - "Robbing stores is great. Robbing banks, warehouses and casinos is really fucking great. But how about robbing a plane? A military cargo plane, 20,000ft above the ground? Murkywater is a private army with a private air force, and part of that air force is tasked with transporting huge pallets of ill-gotten cash around the world. One such plane is scheduled to fly over the Eastern Seaboard soon. Locke has arranged for you to be on board. Getting the money will be one thing - getting off the plane, that's something else..."
This Heists Pack also includes some new equipment equipment. You'll get access to a new pistol along with four melee weapons. Four new masks, patterns and materials will also be up for grabs.
These DLC packs are a cross-promotion for the Point Break remake starring Édgar Ramírez and Luke Bracey. The film's scheduled to hit theaters on Christmas Day. Four of the six new songs in the Point Break Heists DLC pack are actually from the film's soundtrack.
This isn't the first time that Payday 2 has been used to promote an upcoming film. Last year, Overkill released a DLC pack inspired by Keanu Reeves film John Wick.
Your Daily Blend of Entertainment News
Staff Writer at CinemaBlend.